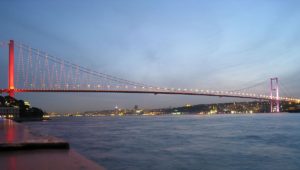 Bosphorus River Istanbul
July 6, 2017 arrive Istanbul.
We flew out of Barcelona on Turkish Airways to Istanbul today. There was really good service on this flight. We will be in Istanbul 8 nights.
Coming into passport control was not too daunting.  There were about 1,000 or so people in line, but they were well staffed and handling it efficiently. I had done our visas online and that turned out to have been the best choice.
Getting our luggage was quick, they were already in baggage waiting for us after passport control.
I had booked car service, we met up with them and soon we were on our way to our hotel.
July 7, 2017
Several months ago I booked excursions for five of the days we will be here, and today was our first, which was for four hours.                 We spent more time in some locations than others largely due to the amount of questions we asked. But that is the good thing about a glimpse, you know where you want to re-visit.
Our transportation and tours are with
"My Local Guide Istanbul"   I highly recommend this company. 
We had our first excursion today with guide Caner as he began our introduction to Istanbul.  We made a stop at the Grand Bazaar, then Hagia Sophia, which was a Byzantine church, then an Ottoman mosque, and now a museum, and the Hippadrome which is a large open area where they held chariot races in the olden times. 
Due to the organization and expertise of My Local Guide Istanbul, we were able to see far more than I could ever have possibly imagined. After day one our guide has been Yunus and he is a phenomenal  guide. Our driver for most of the time was Murat who maneuvers this extremely busy city expertly, and made it easier for me to get in and out of the van. 
One of our locations day one was the Grand Bazaar. The Grand Bazaar was built in the 15th century and is one of the world's oldest and largest covered markets with over 4,000 shops and employs over 30,000 people.
I had a tiny idea of Istanbul's Grand Bazaar from when my son James and I watched an episode of House Hunters International Istanbul on HGTV a few years ago.  We weren't staying at the Grand Bazaar long, maybe 30 minutes,  and I was thinking to myself "wow, I would like to come back here".  
We got back to the hotel and Jim said "on one of our off days I wouldn't mind going back to the Grand Bazaar and just wander around".  So the plan is we have added a sixth half day for the Grand Bazaar and the Spice Market.
OK, I'm just going to start throwing pictures up and at some point, probably after we get to England, Jim and I will come back and try to identify and/or explain them.  It will be a few days though.
These first two pictures were taken from our hotel room balcony.  You see the Bosphorus River, the flat  roofed building to the far right forefront is the football (soccer) stadium.
The Bosphorus River is a natural river that connects the Black Sea to the Sea of Marmara. It runs through the center of Istanbul and separates the European portion of Istanbul from the Asian portion of Istanbul. It's length is approximately 20 miles with it's width varying from 800 to 3600 yards. 
And even a full moon.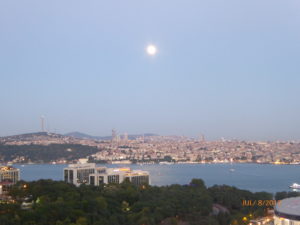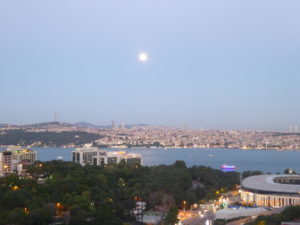 Istanbul is a very  fascinating  city. It is a beautiful city and totally different than anywhere else we have ever been.  There have been so many diverse cultures, and a very long history that dates back to 7,000 BC, many rulers and many battles. 
Istanbul is more cosmopolitan and has more of a western feel to it than we would have thought. It is also a bit exotic.  
It is surrounded on three sides by water, and the fourth by land with large hills.  Istanbul was a walled city. A lot of the walls have been damaged over the centuries due to earthquakes. Some history on the great walls of Istanbul.
There are 80,000,000 people in Turkey with 20,000,000 in the Istanbul Metropolitan area.
There are over 3,000 active mosques in Istanbul. The majority of the population are Turks of the Muslim faith. They have had an influx of refugees from Syria over recent years. The Greek and Jewish populations have declined over time.
Fact learned day one,  82F in Istanbul feels much hotter than 82F in Houston. Now I know why all but one day were half days.
Now some random pictures from day one July 7, 2017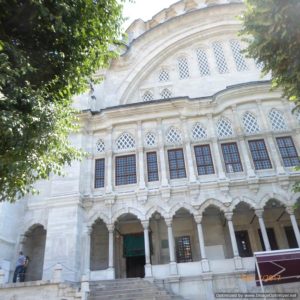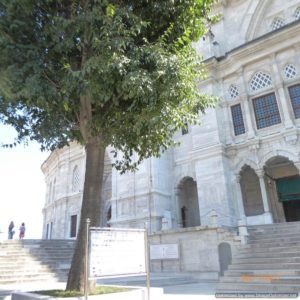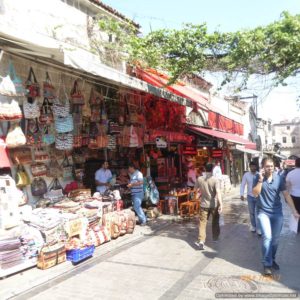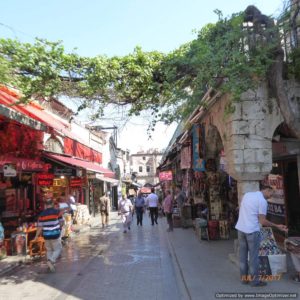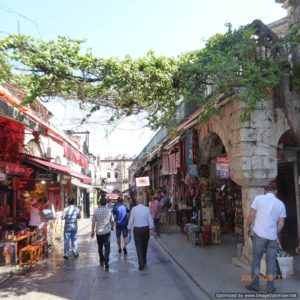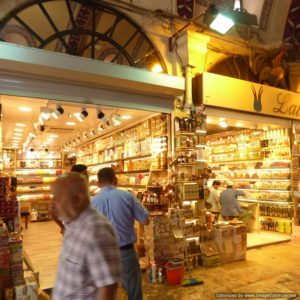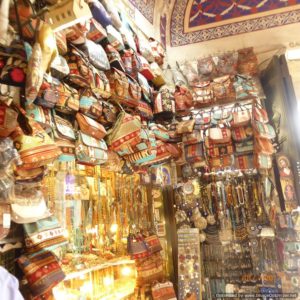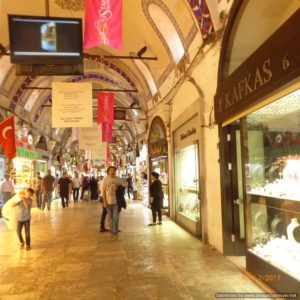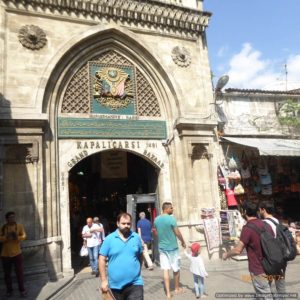 And yes this is The Grand Bazaar, a tiny part of it.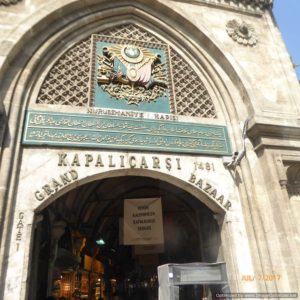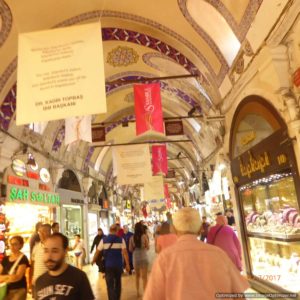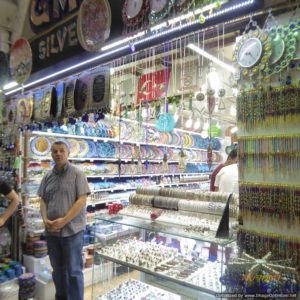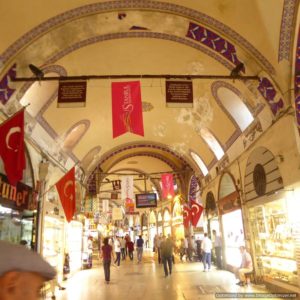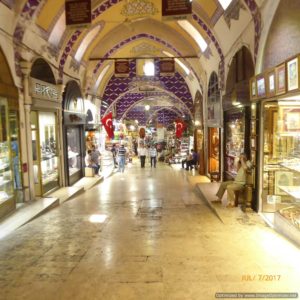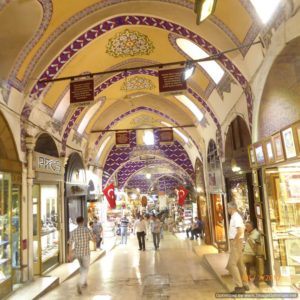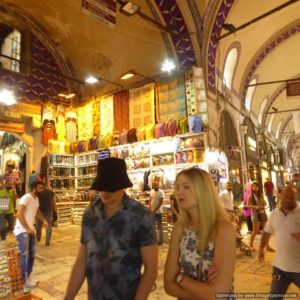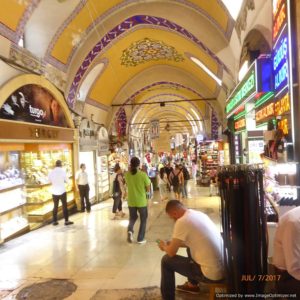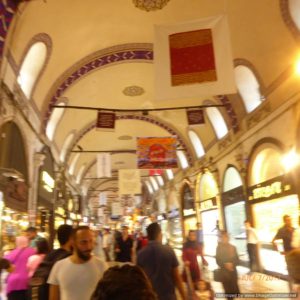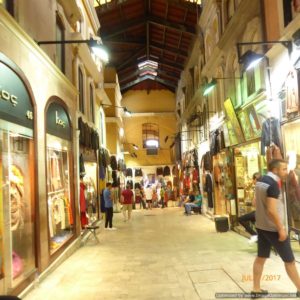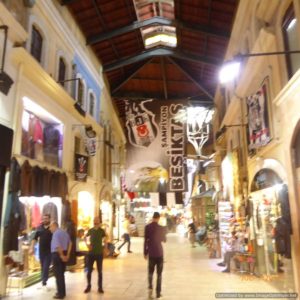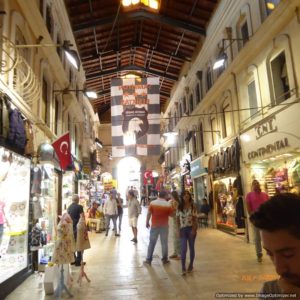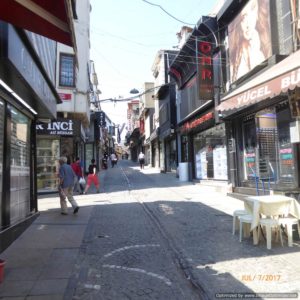 Shops outside the Grand Bazaar that are between the Grand Bazaar and Hagia Sofia.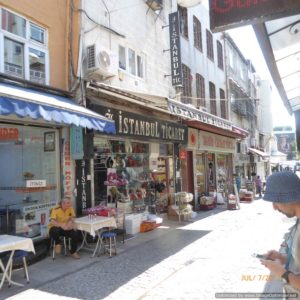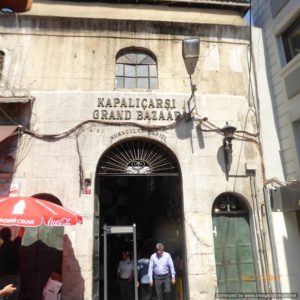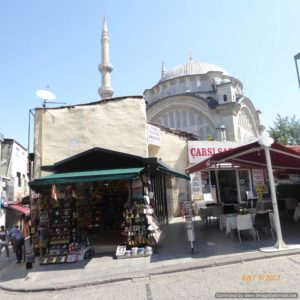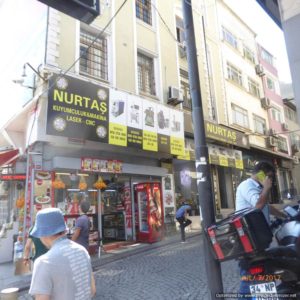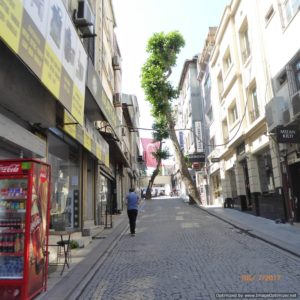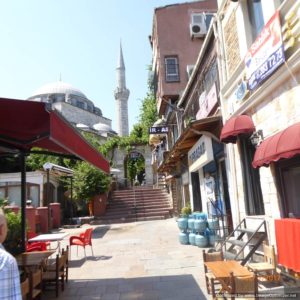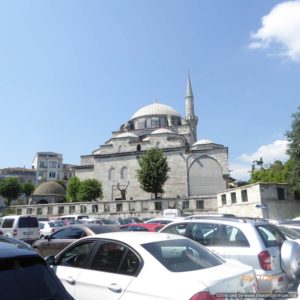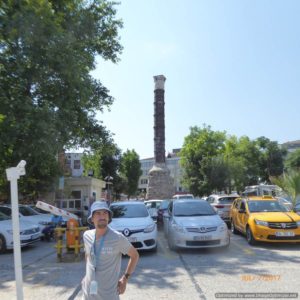 Day one- Our guide was Caner.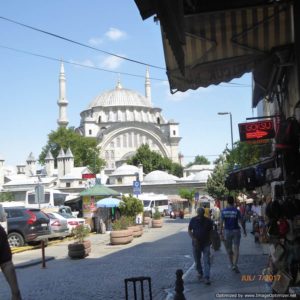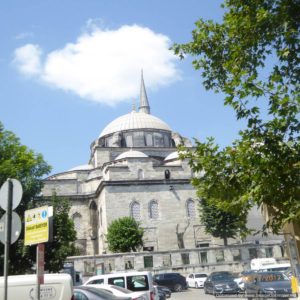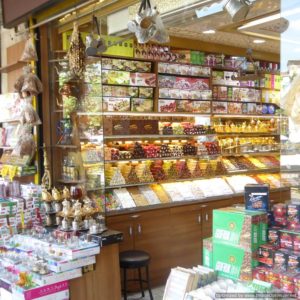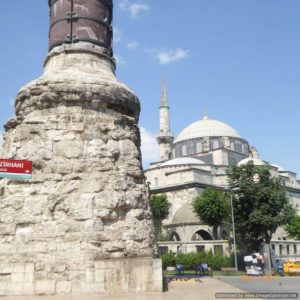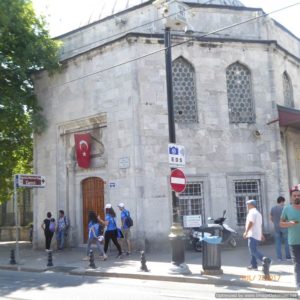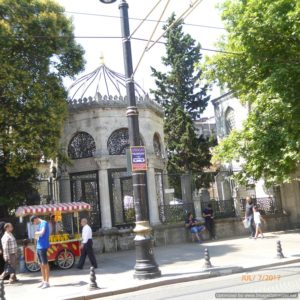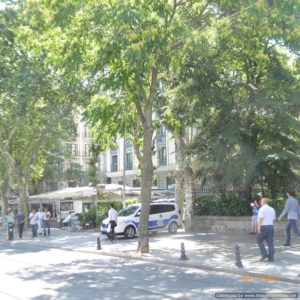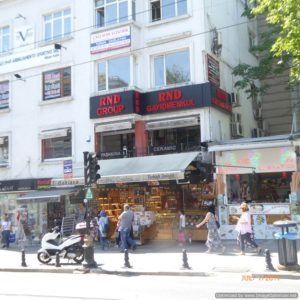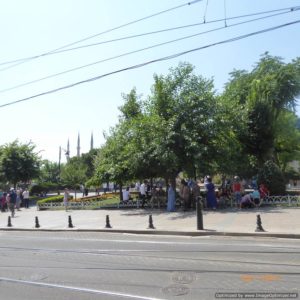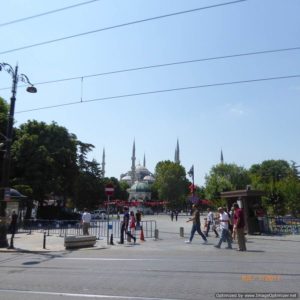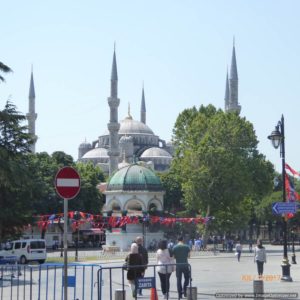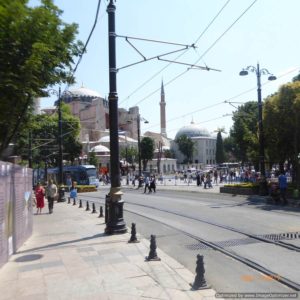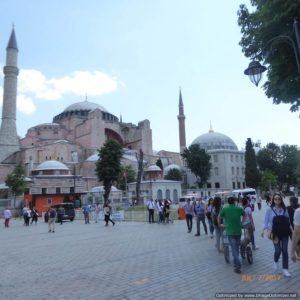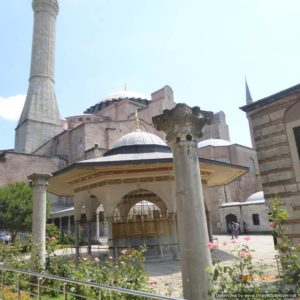 Hagia Sophia which was originally a Greek Orthodox basilica, then an imperial  mosque and is now a museum.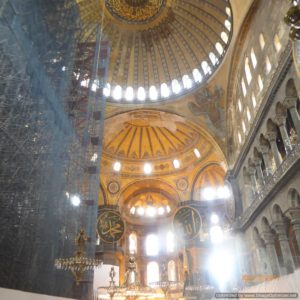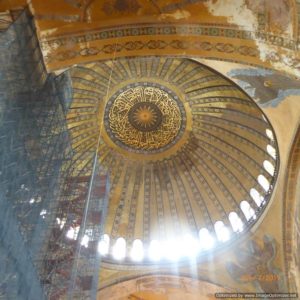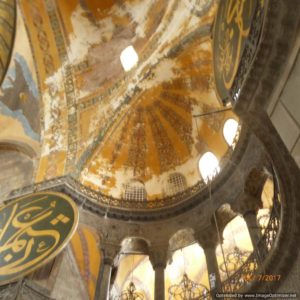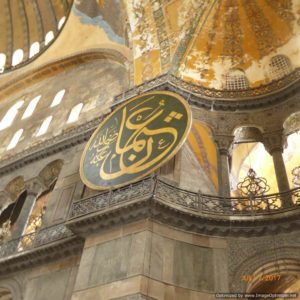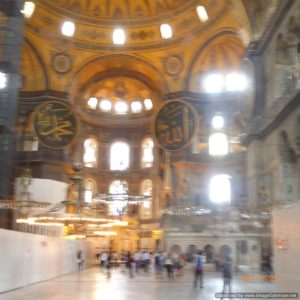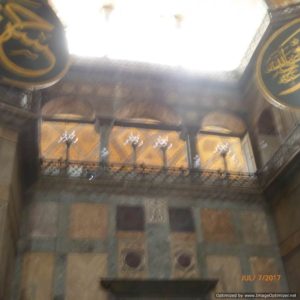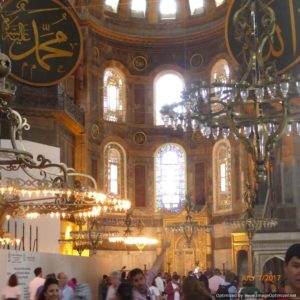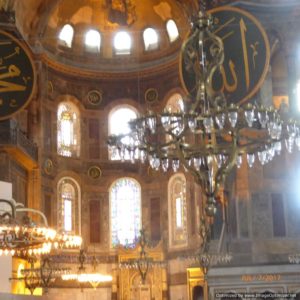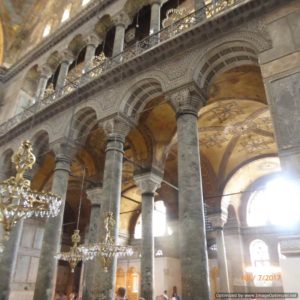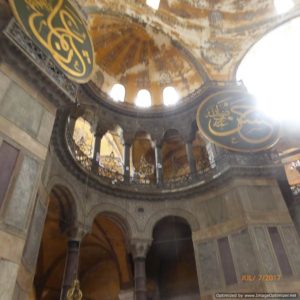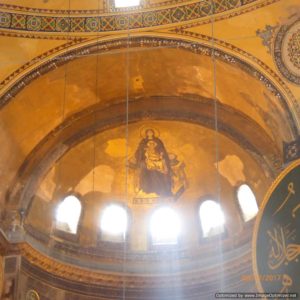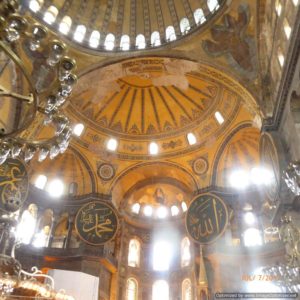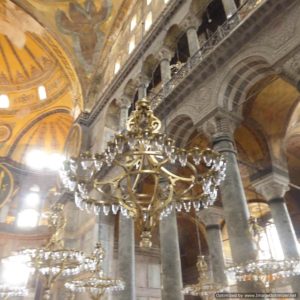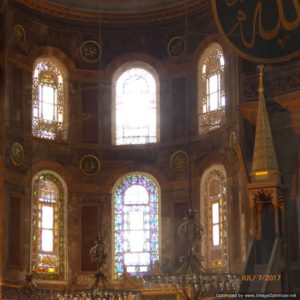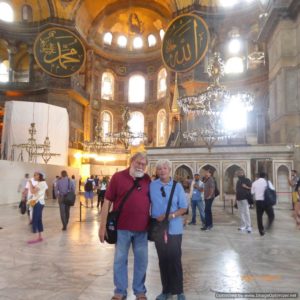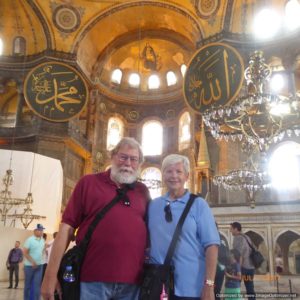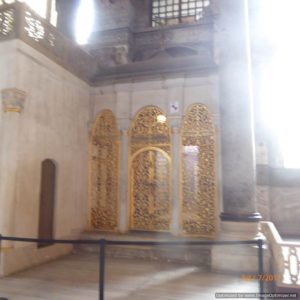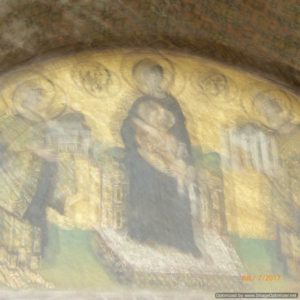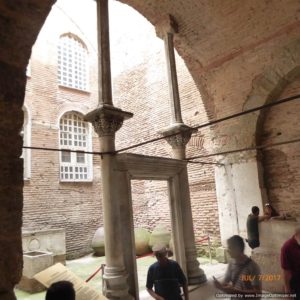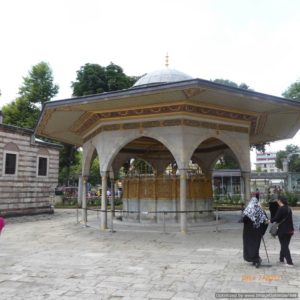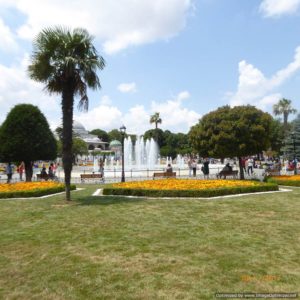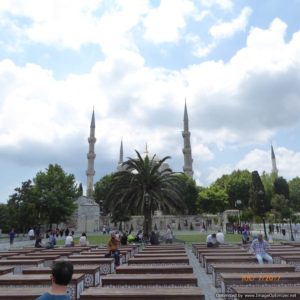 This is a large sitting/visiting area between Hagia Sophia and the Blue Mosque. Adjacent to that is the Hippodrome which is a large open area for gatherings, with three large columns.  The serpentine column,  the spiral column and the obelisk.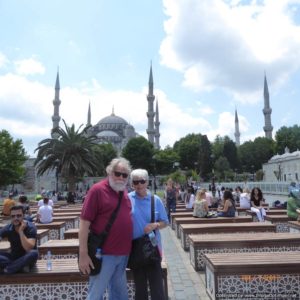 The Blue Mosque is in the background, and this is where we first heard the calling for Muslims to prayer.  Non Muslim visitors are not allowed in the mosque during prayer time, but we had stopped to take a rest outside.
In all of the cities of the world we have visited, Istanbul made the biggest impression on me.  These are kind and welcoming people, who are working and raising their families, and only want peace for their children's lives.
Every time I look at this page, I can still hear the call to prayer in my mind.
Six times a day a call to prayer, or ezan is back and forth from two muezzin, one at the Blue Mosque, the other at a smaller mosque near Hagia Sophia. This must have been several minutes as they went back and forth. There are several speakers all around the area so the sound literally surrounds you.
I believe this call to prayer is at all of the mosques, but we just happened to be here the first time we heard them.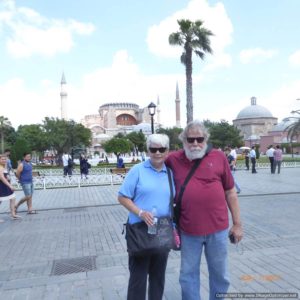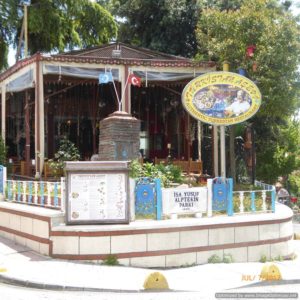 July 8, 2017
From this point on our guide is Yunus.
The Blue Mosque which is named for having over 20,000 blue tiles installed on it's interior surface.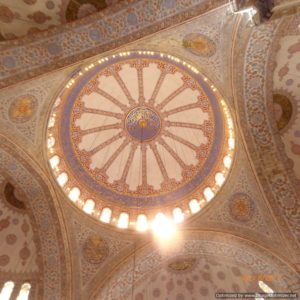 This is very beautiful and my pictures do not do it justice.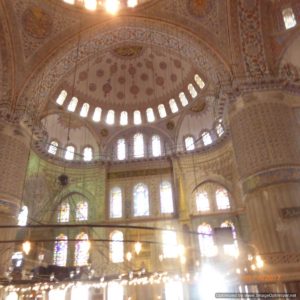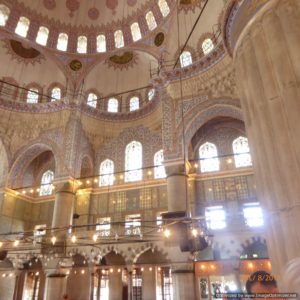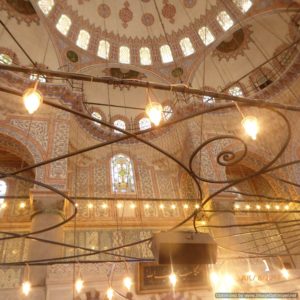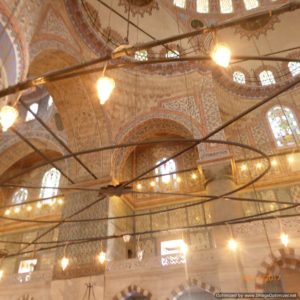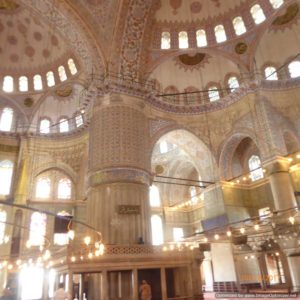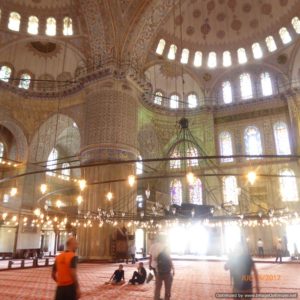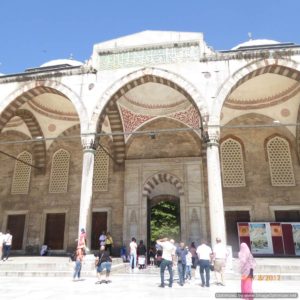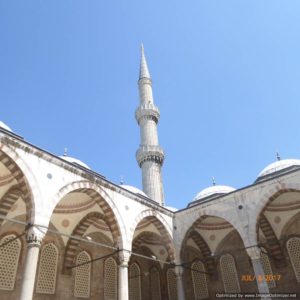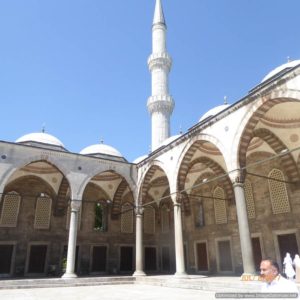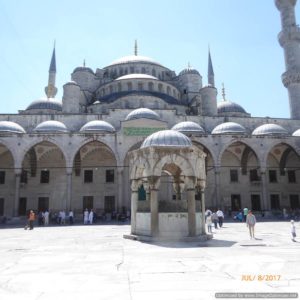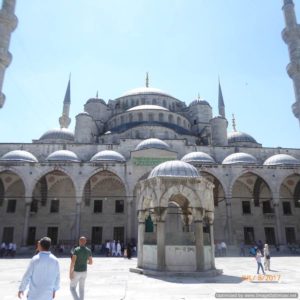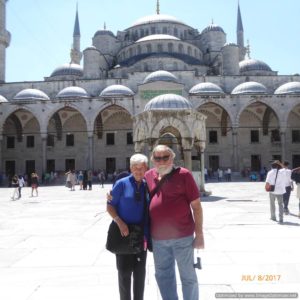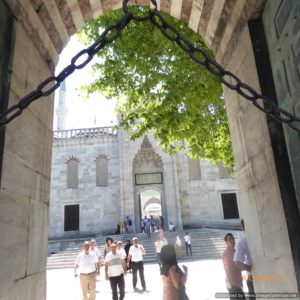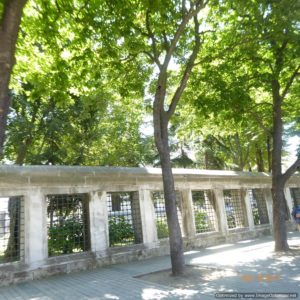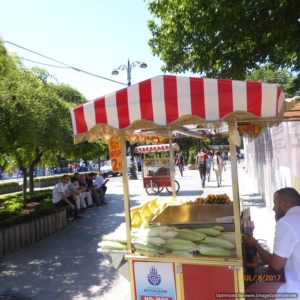 Stands like this are all over with roasted corn on the cob and chestnuts.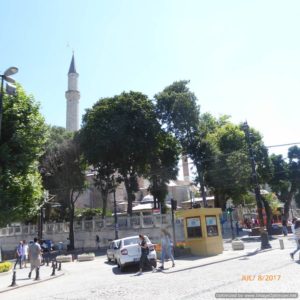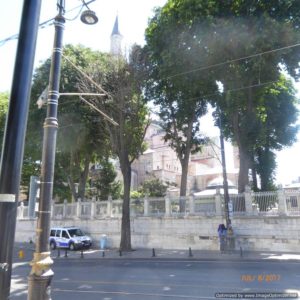 Basilica Cistern is the largest underground cistern of several hundred cisterns that were built in the sixth century to store water for the city of Constantinople which became Istanbul.
The water was brought to the cisterns by aqueducts  from the surrounding hills to be used primarily for when the city was under siege. It's size is about 75 yards by 150 yards (140m X 70m) and has 336 columns that are each 9m high. It is called the Basilica Cistern because a church also resided above the same location at one time. The cistern has brick walls and the floor is brick.
The first picture below is not my picture. It appears to have the copyright "Corbis". My photos did not come out too well.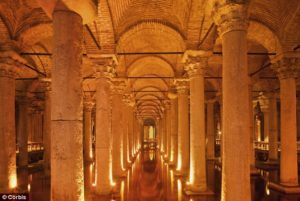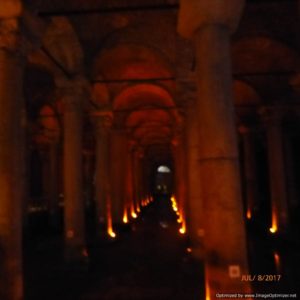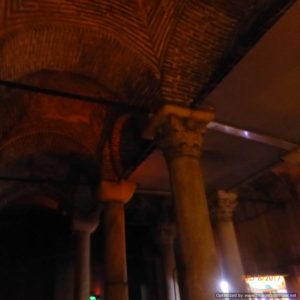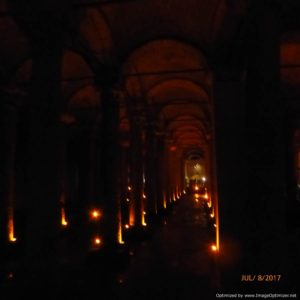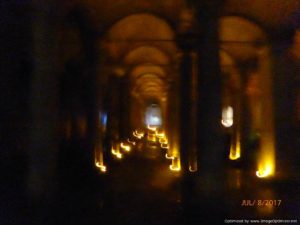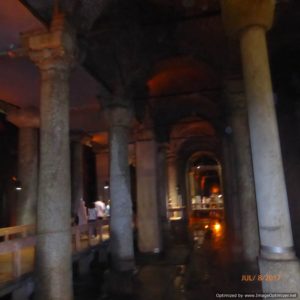 The Basilica cistern was constructed by using columns re-purposed from various buildings throughout Turkey.  Columns shorter than the required length were placed on portions of other columns to bring them to the required length.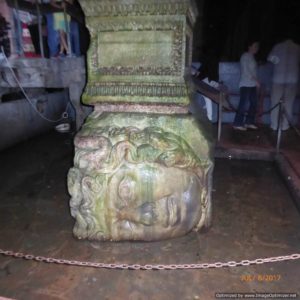 Topkopii Palace  a beautiful place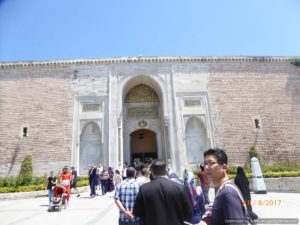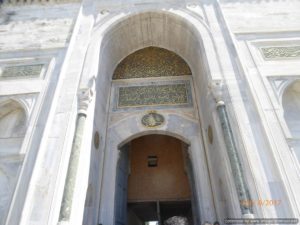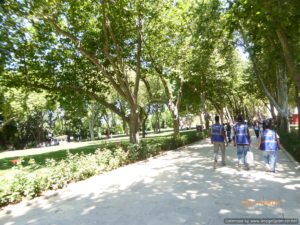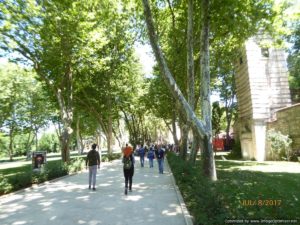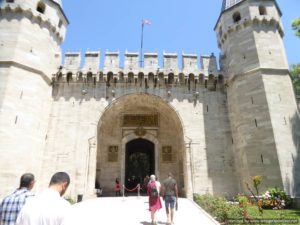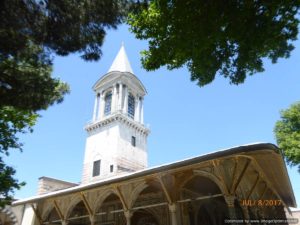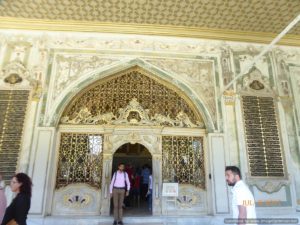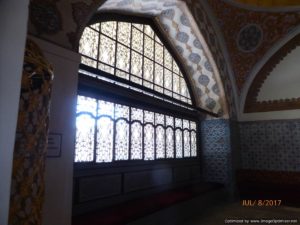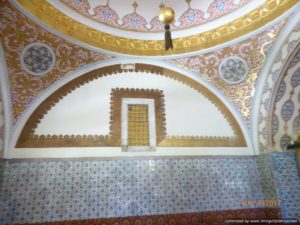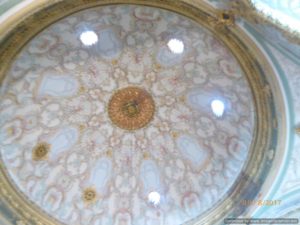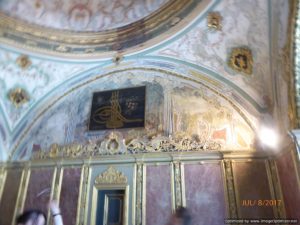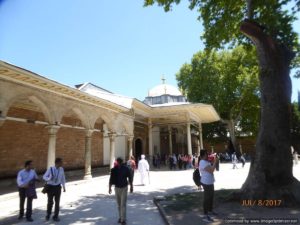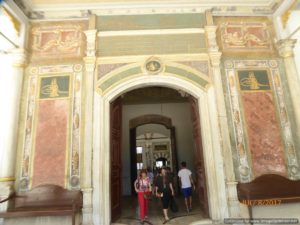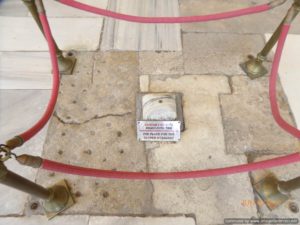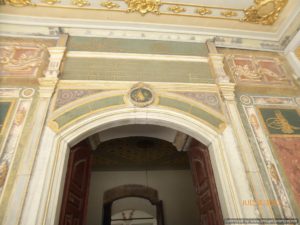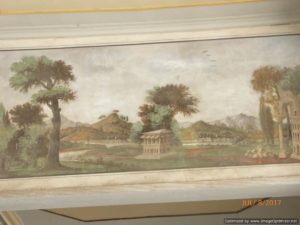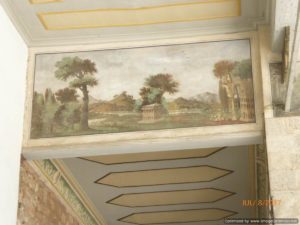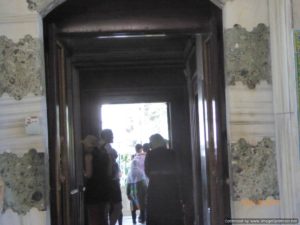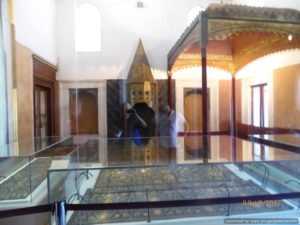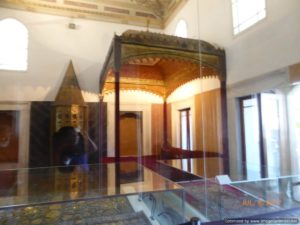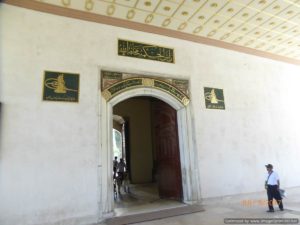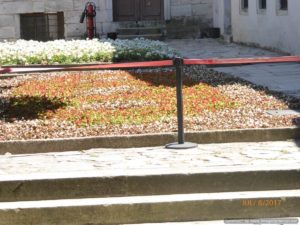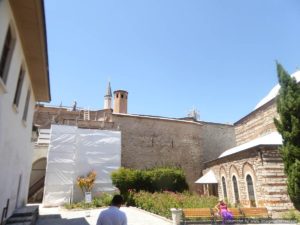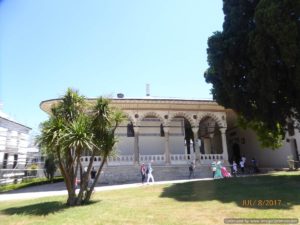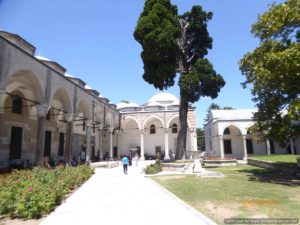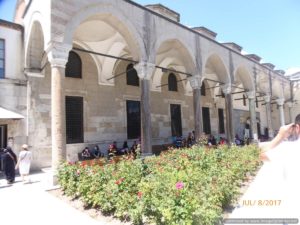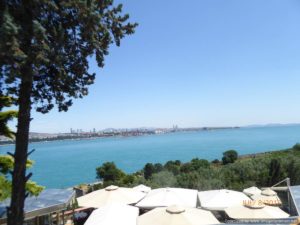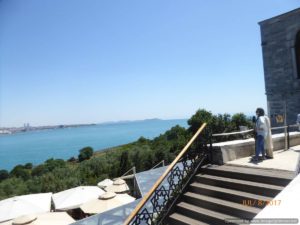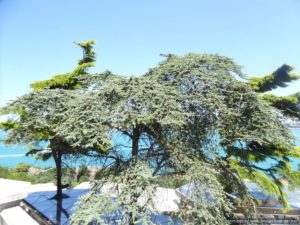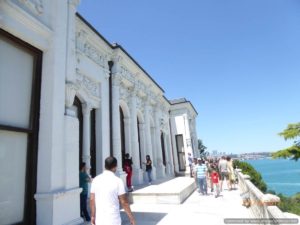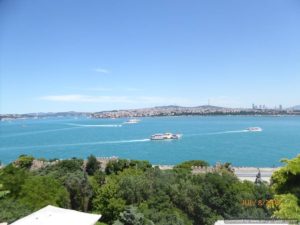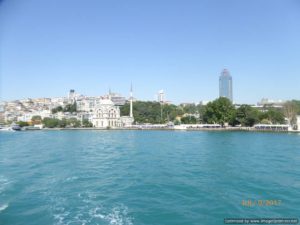 July 9, 2017 – Day 3
Boat tour on Bosphorus  River We went up the Europe side then crossed over and came back the Asian side. It was wonderful to be out on the water and cooler.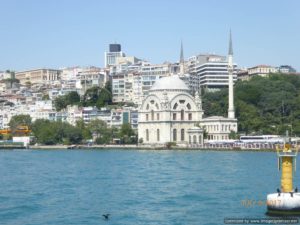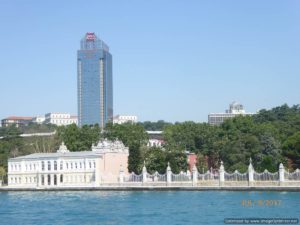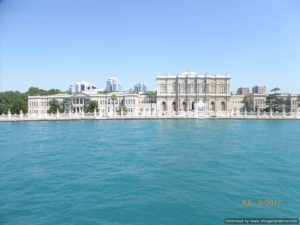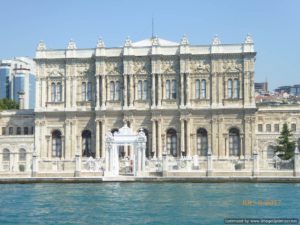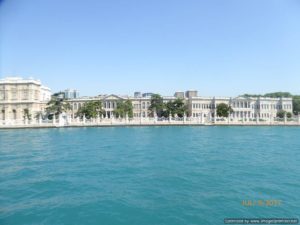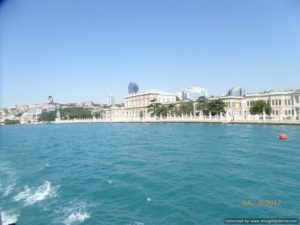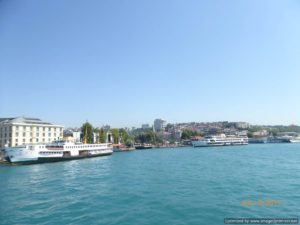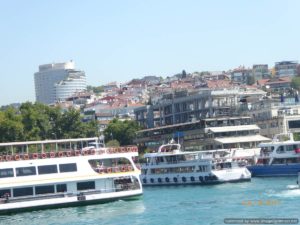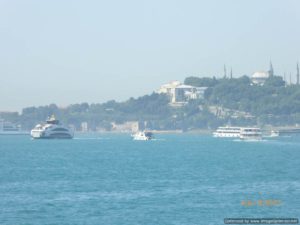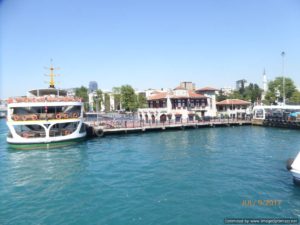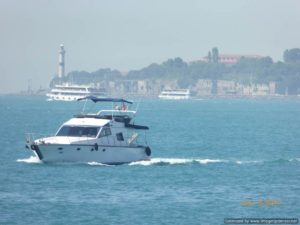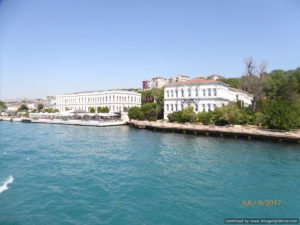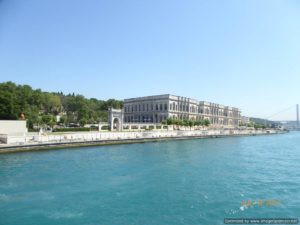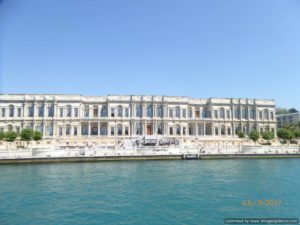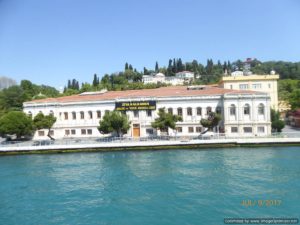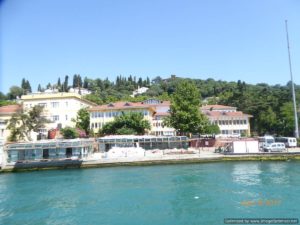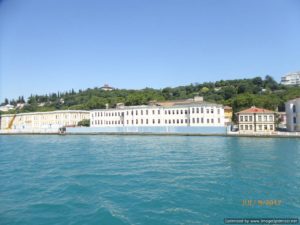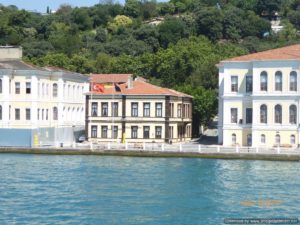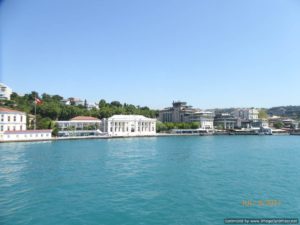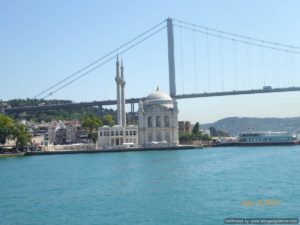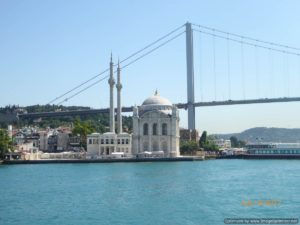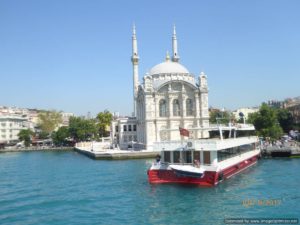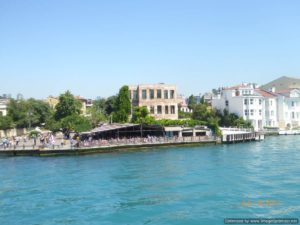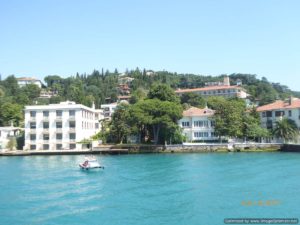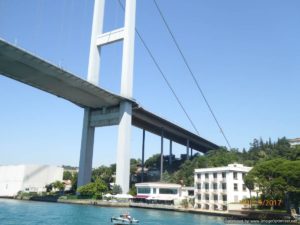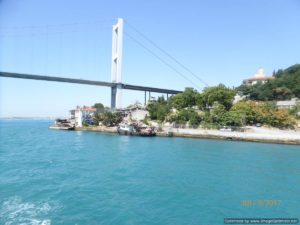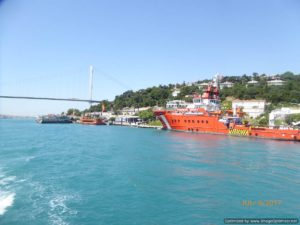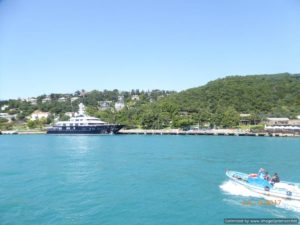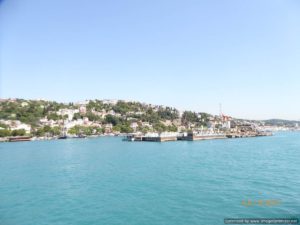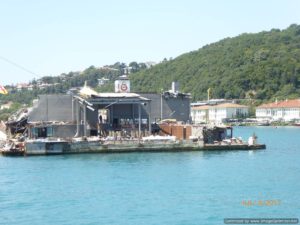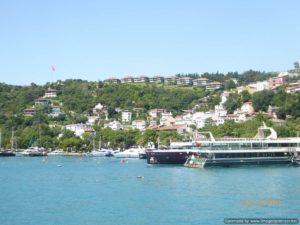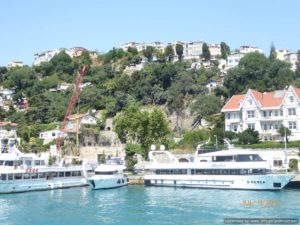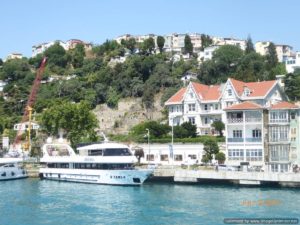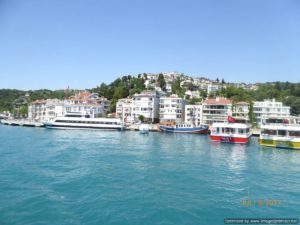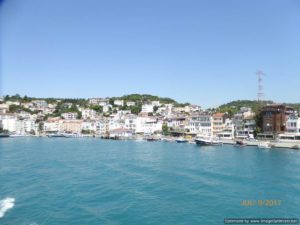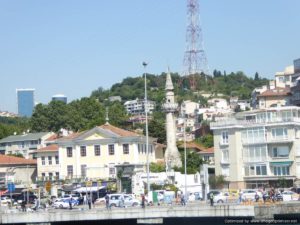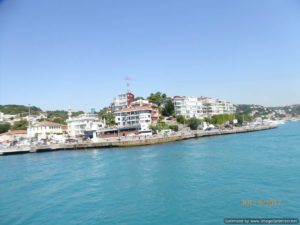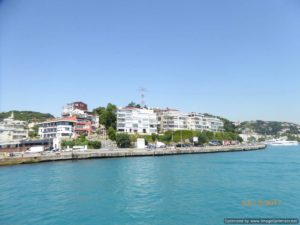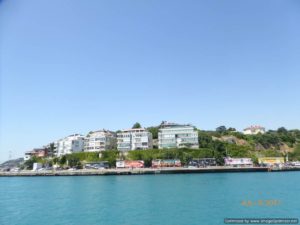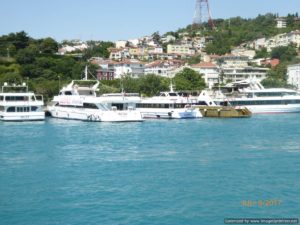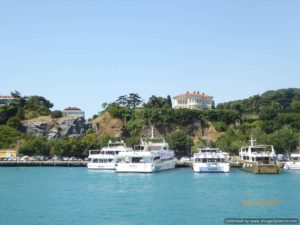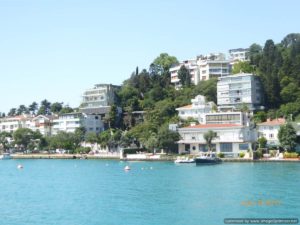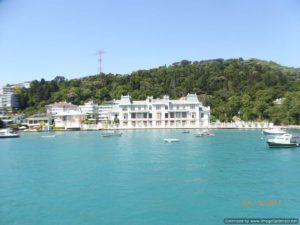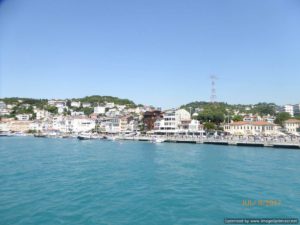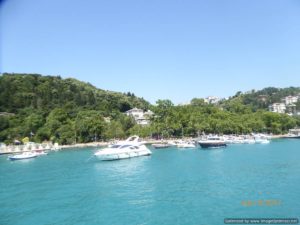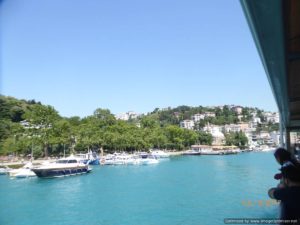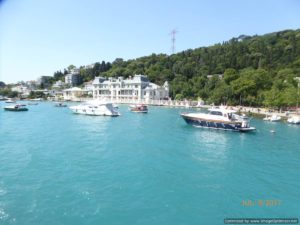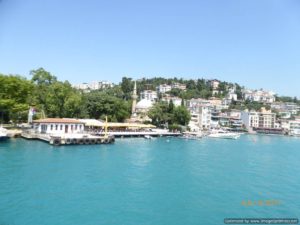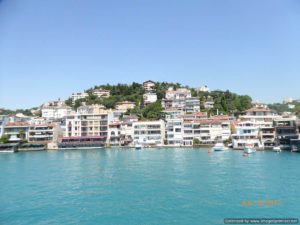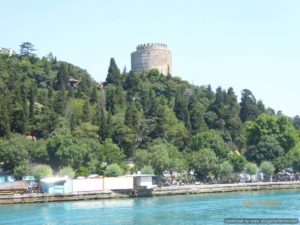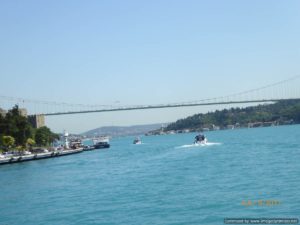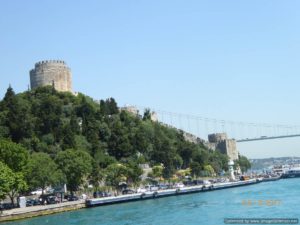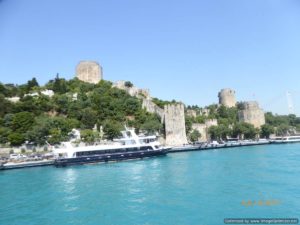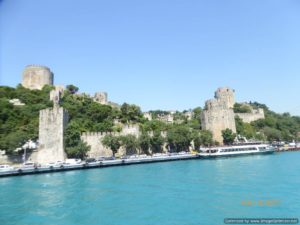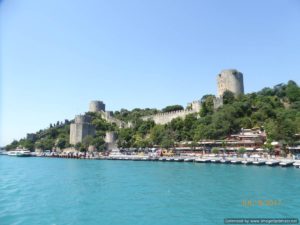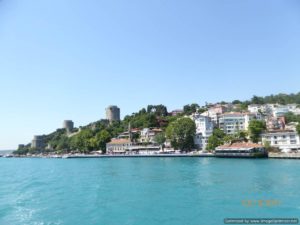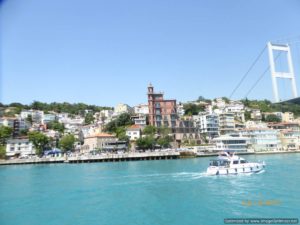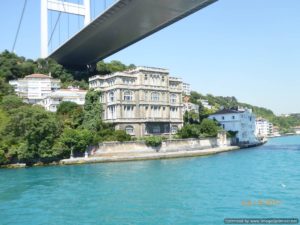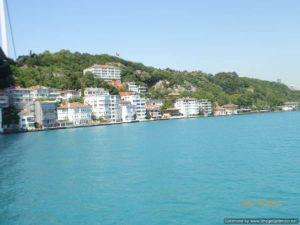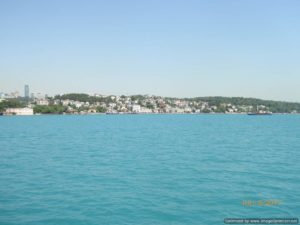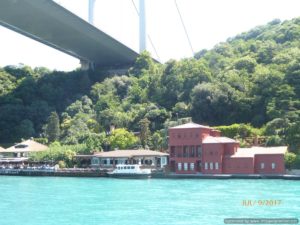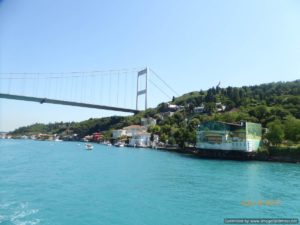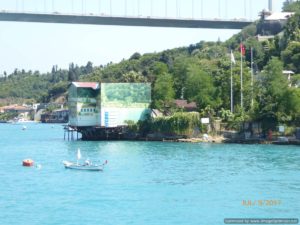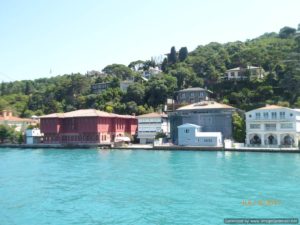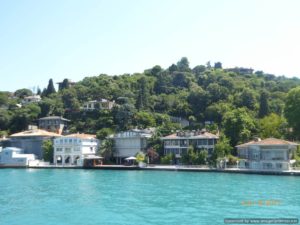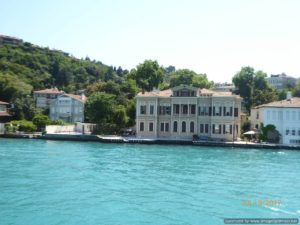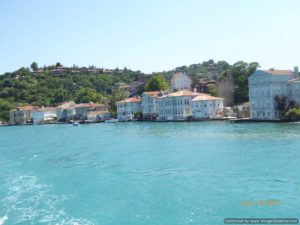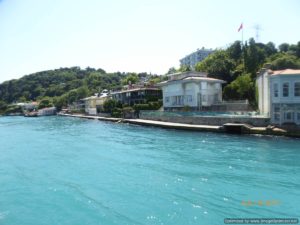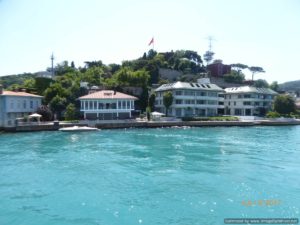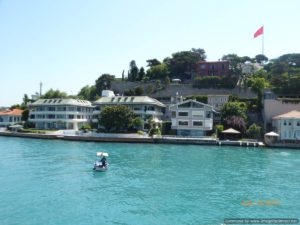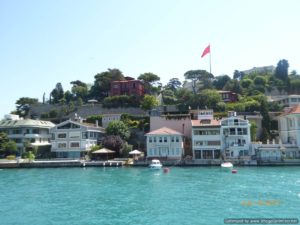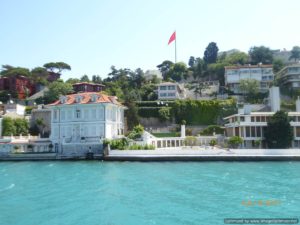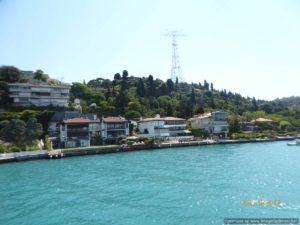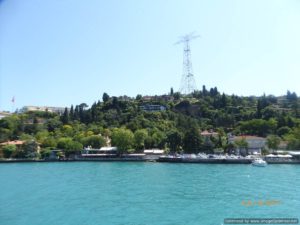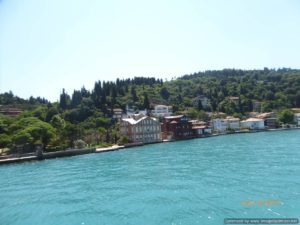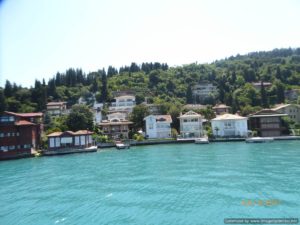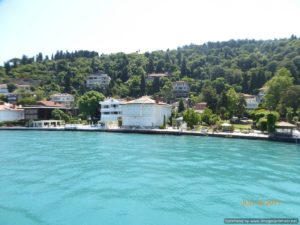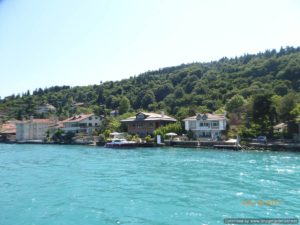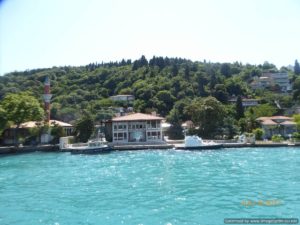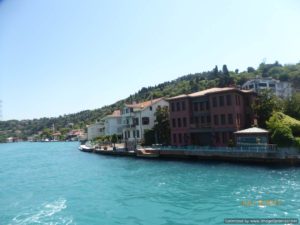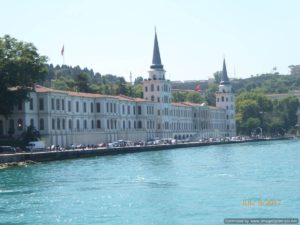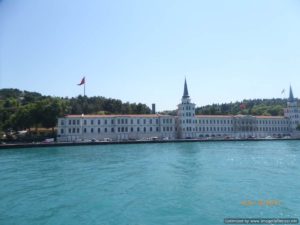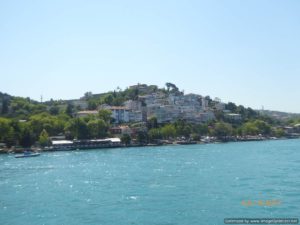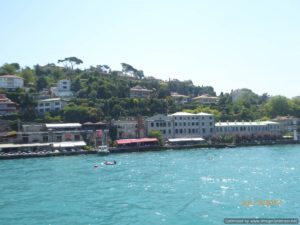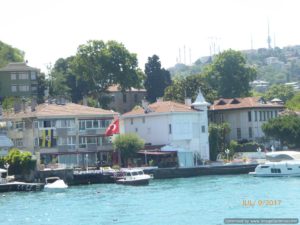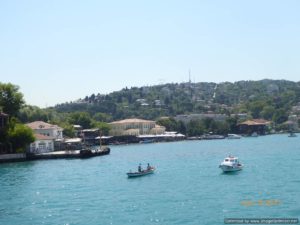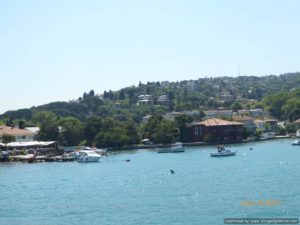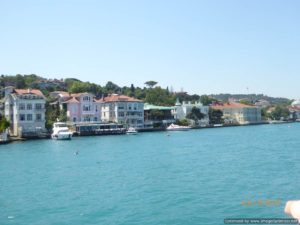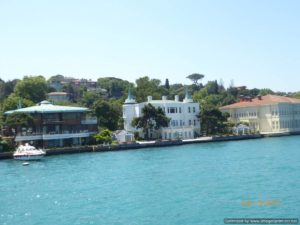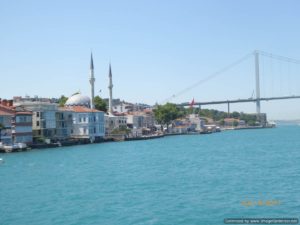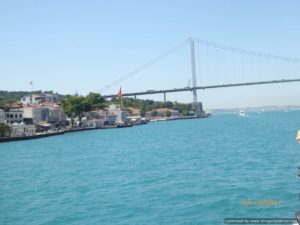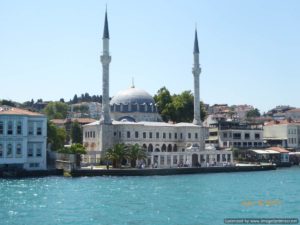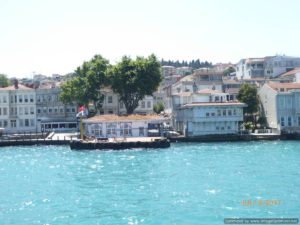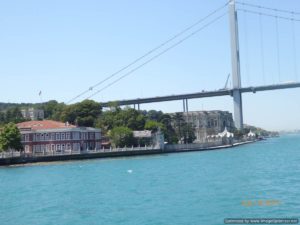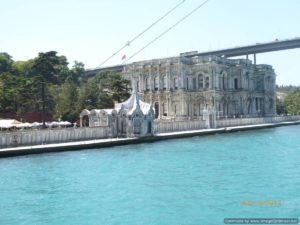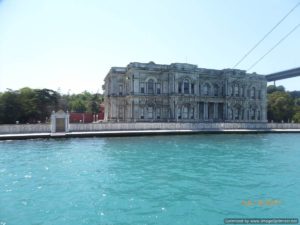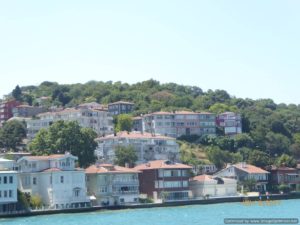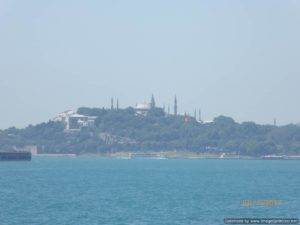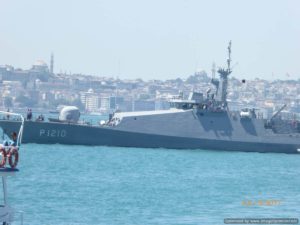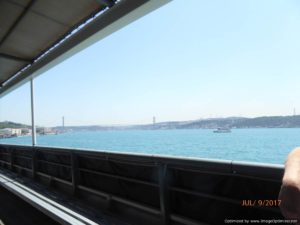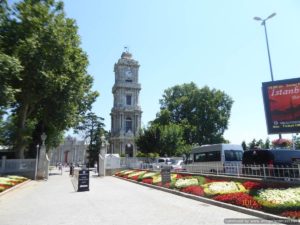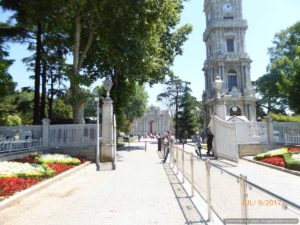 Dolmabahce Palace – a beautiful palace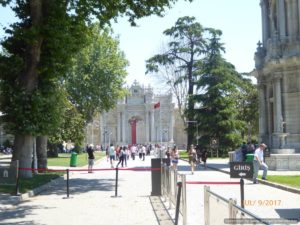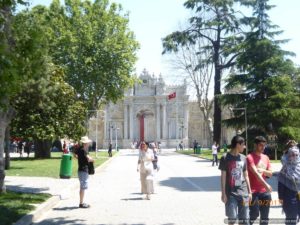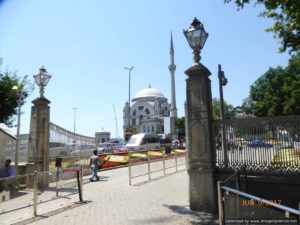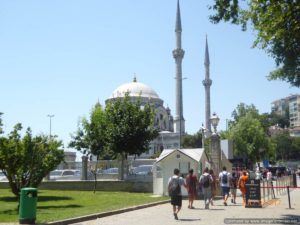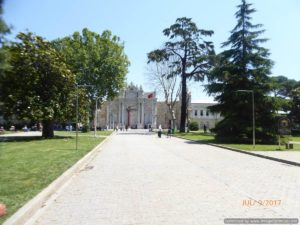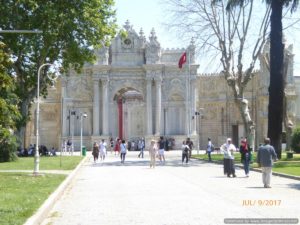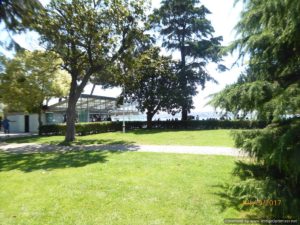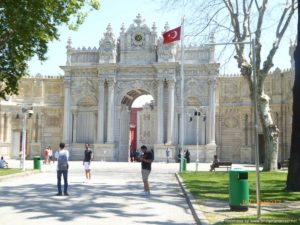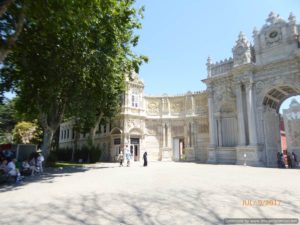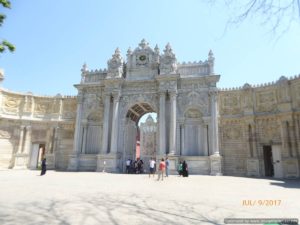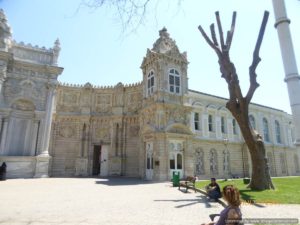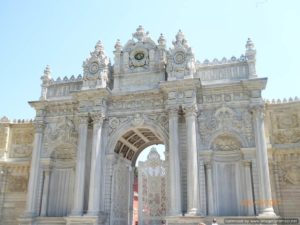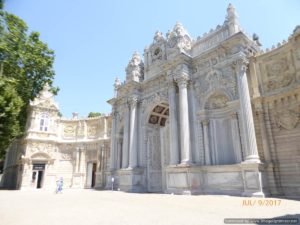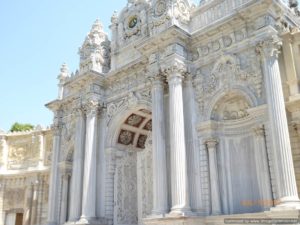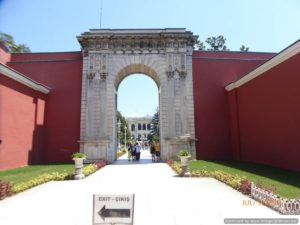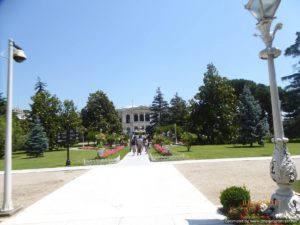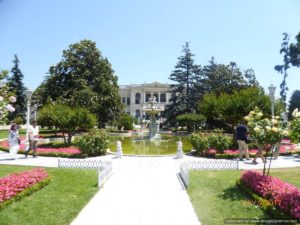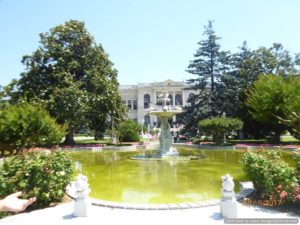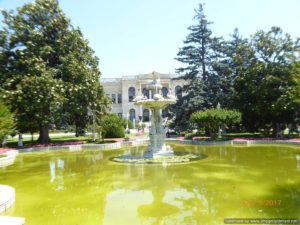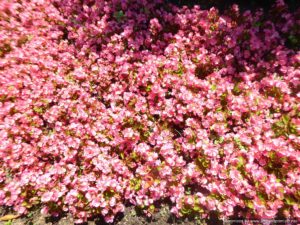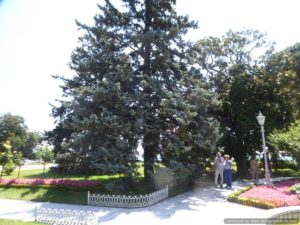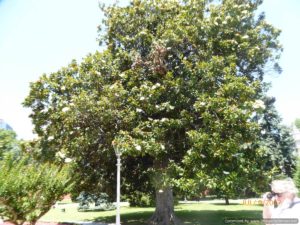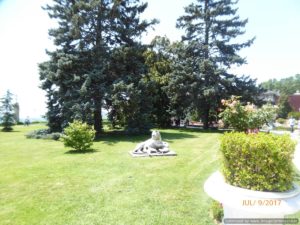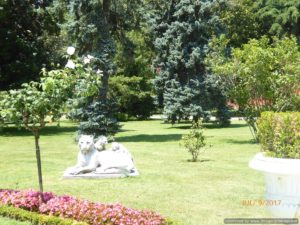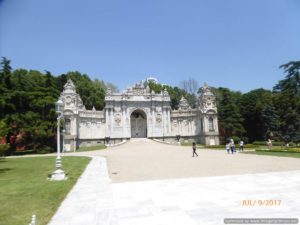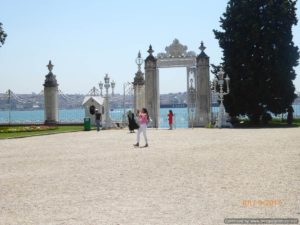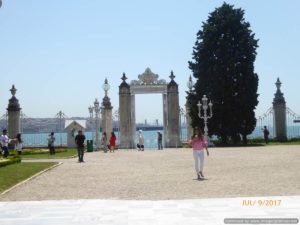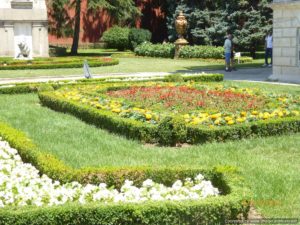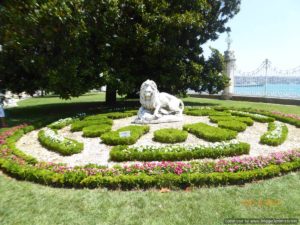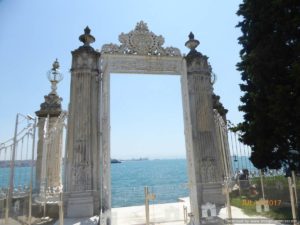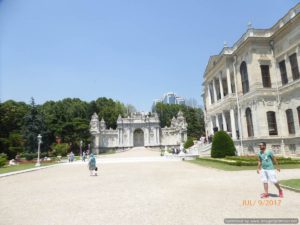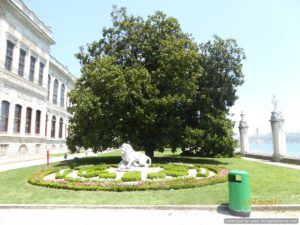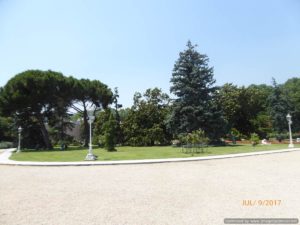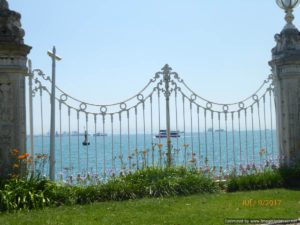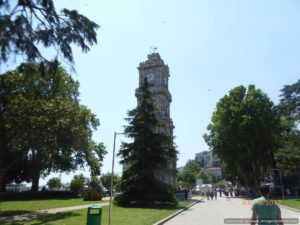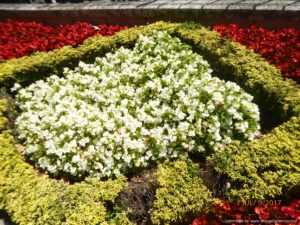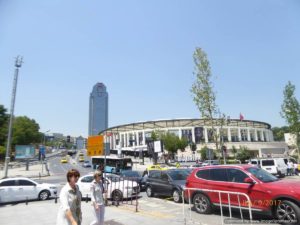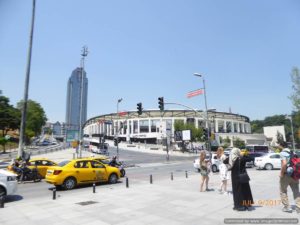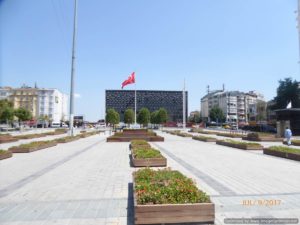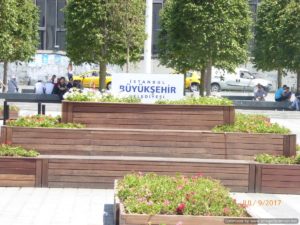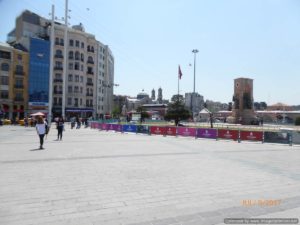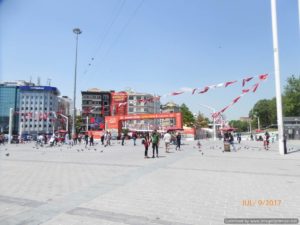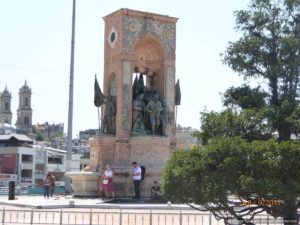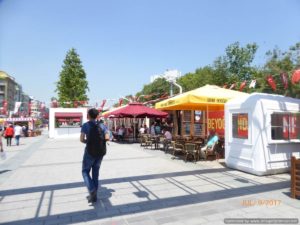 Another market area, this one on Asia side.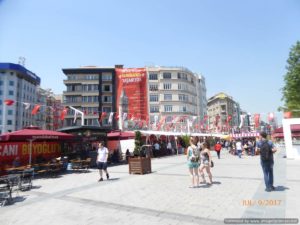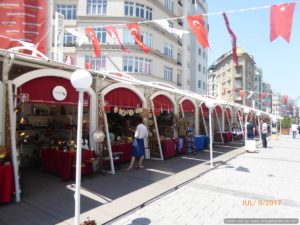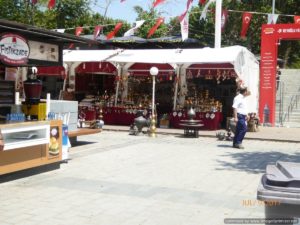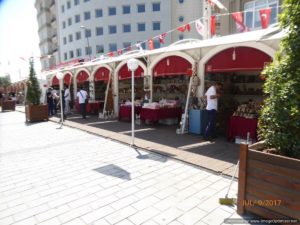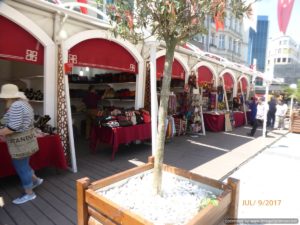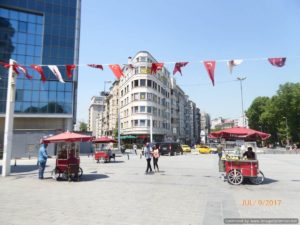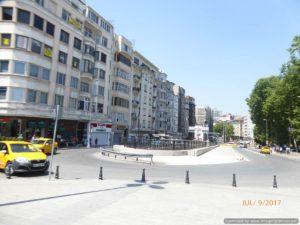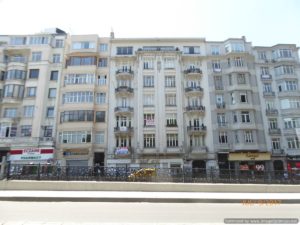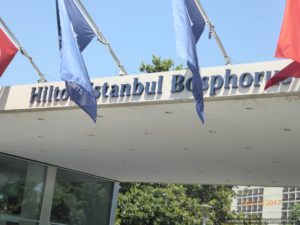 Our hotel- For cars to get into parking they have to go through a gate and are checked for explosives and propane tanks. 
When you come in the door of the hotel they have a security setup like at the airport. Bags have to go on the belt to go through x-ray, and people have to walk through the x-ray. Because I have a pacemaker I was allowed to bypass the walk through.
This is every time you come in.
Many other places we went had the same setup when you walk in. There were a couple of places that did a pat down on me, but most let me go around.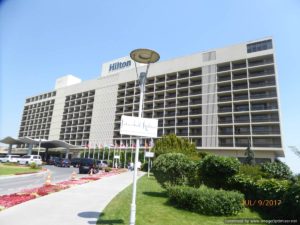 July 10, 2017 – Day 4    We go to Asia, so I have officially been to Asia now.
Ortokey Mosque, Comlica Hill, Kodiky food market and ferry back to Europe.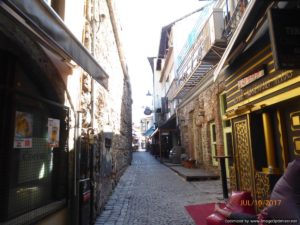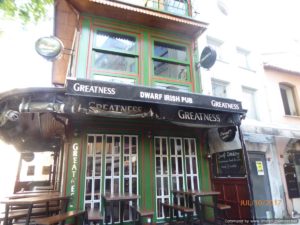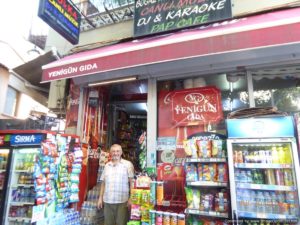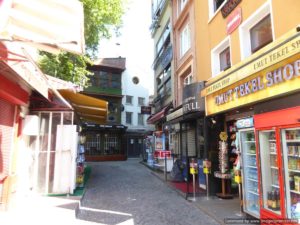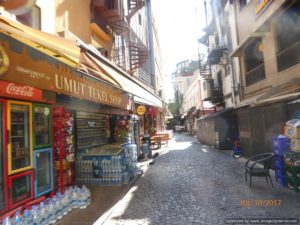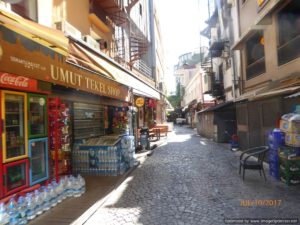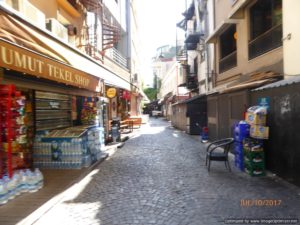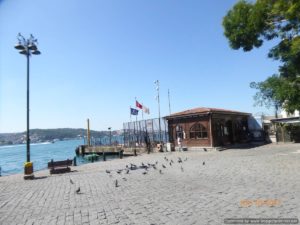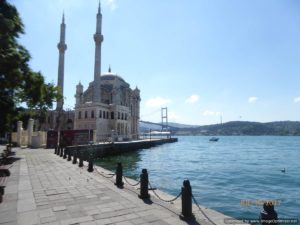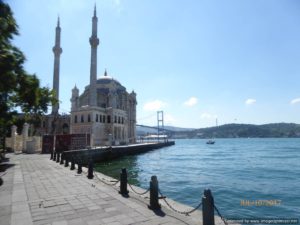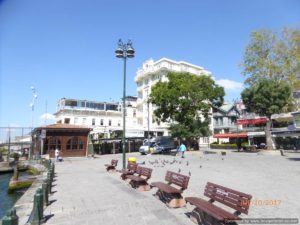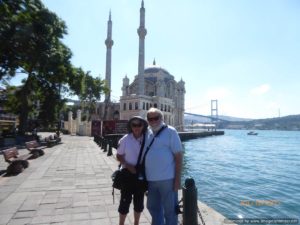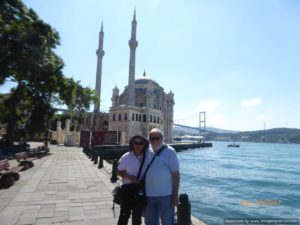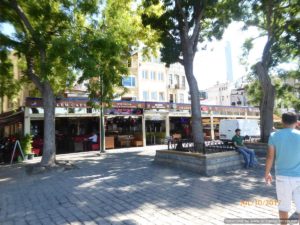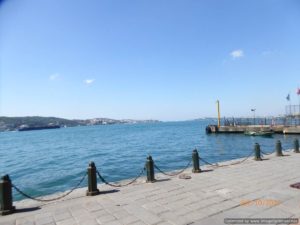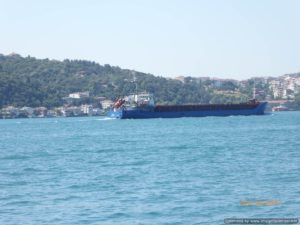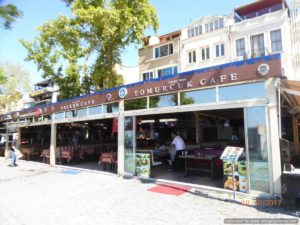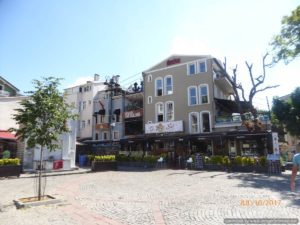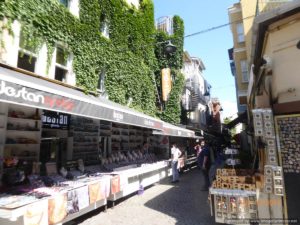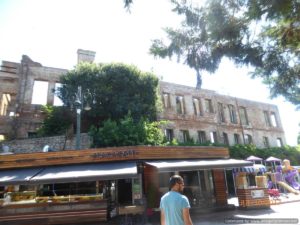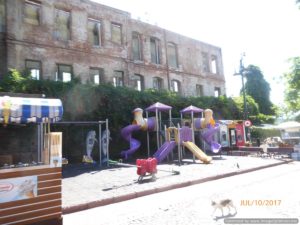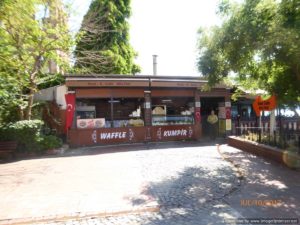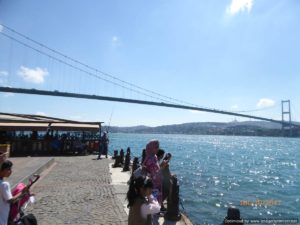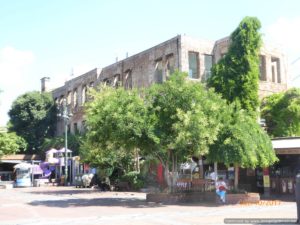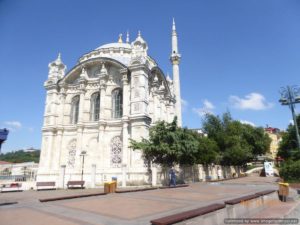 Beylerbeyi Palace — Stunning palace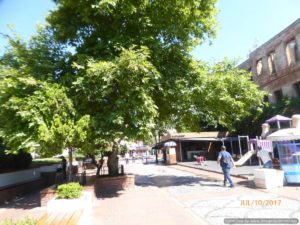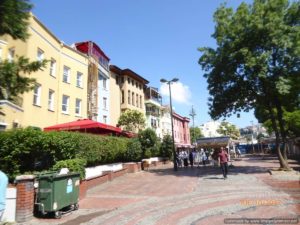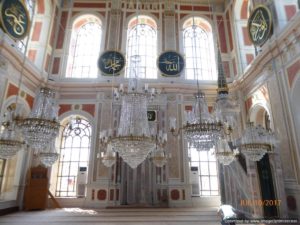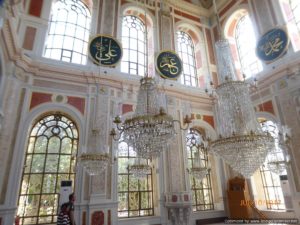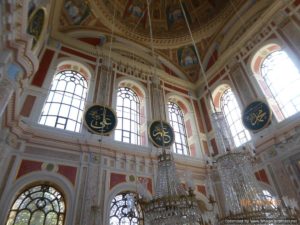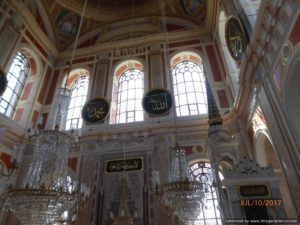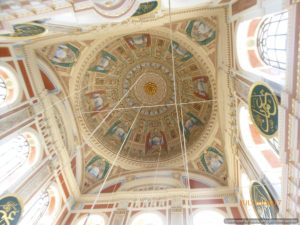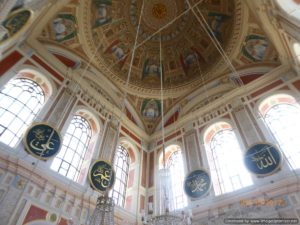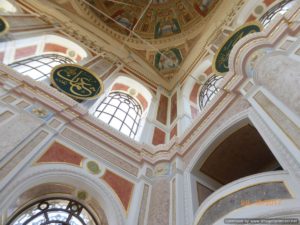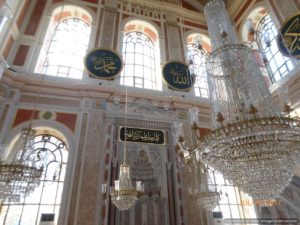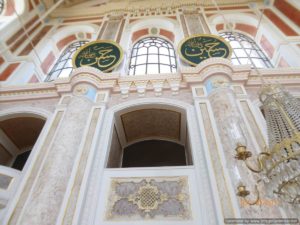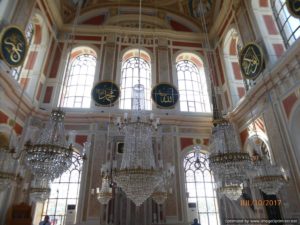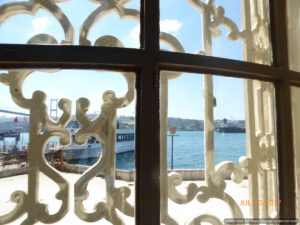 Another shopping area for food.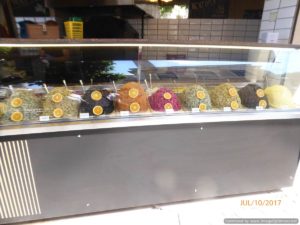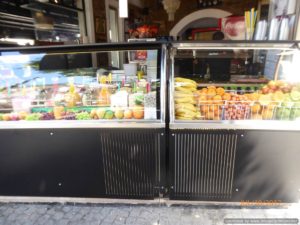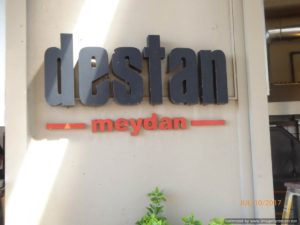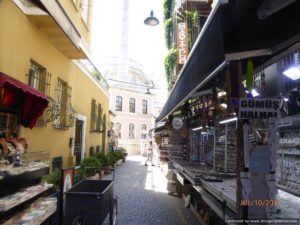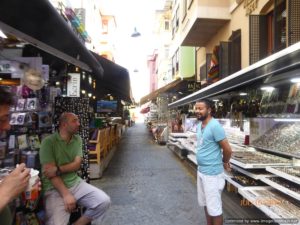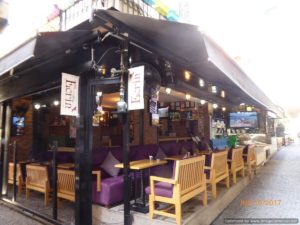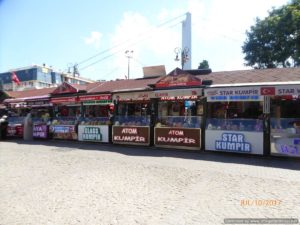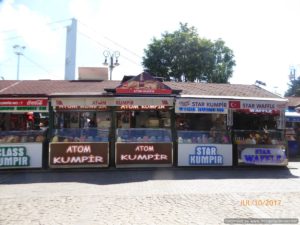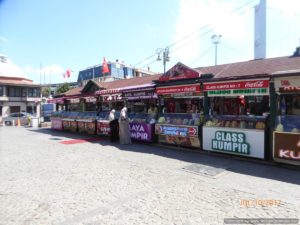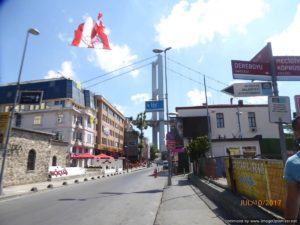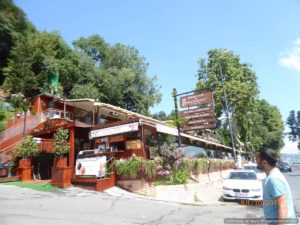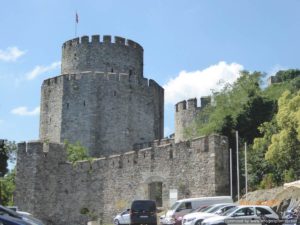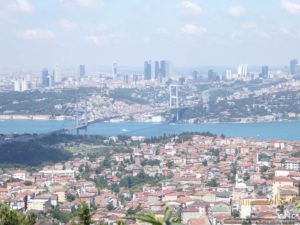 Looking across from high up in the hills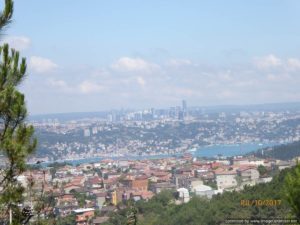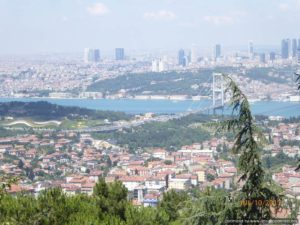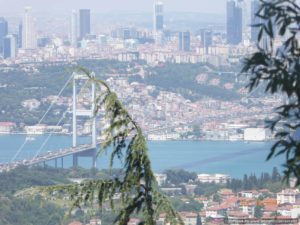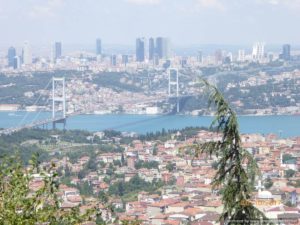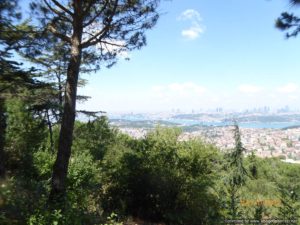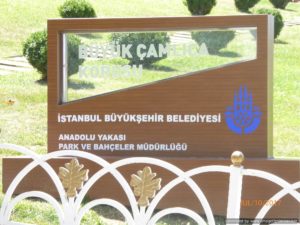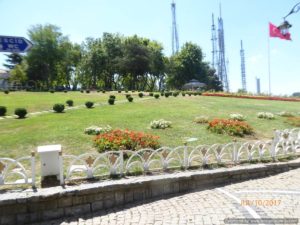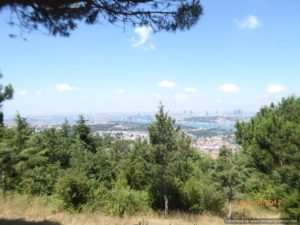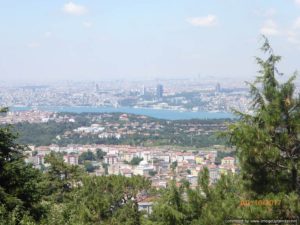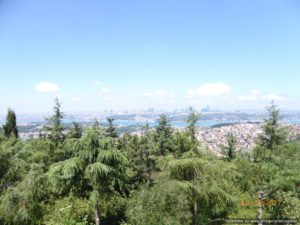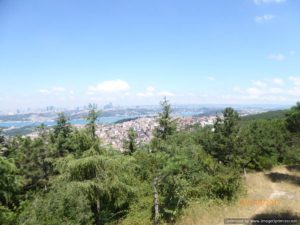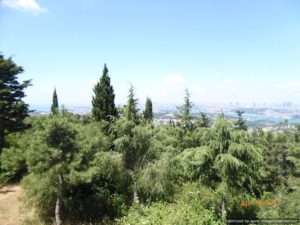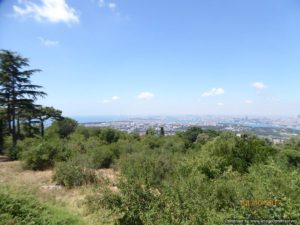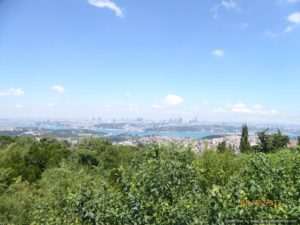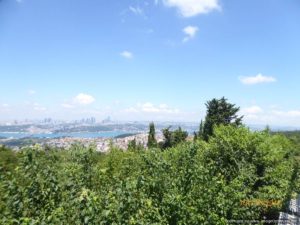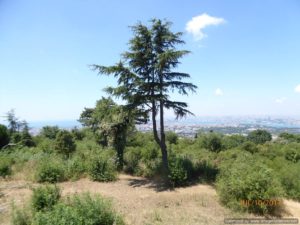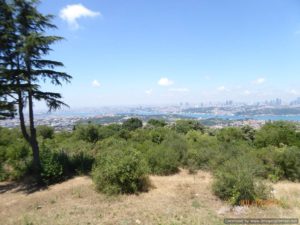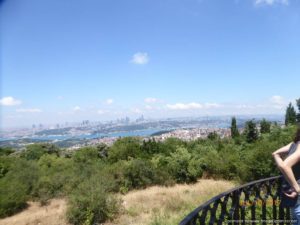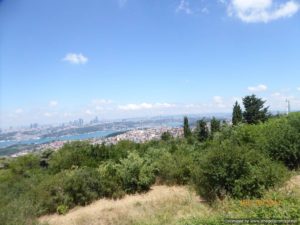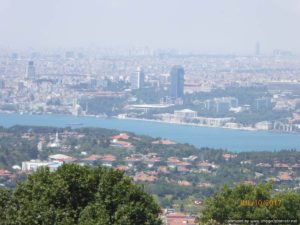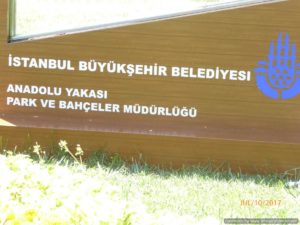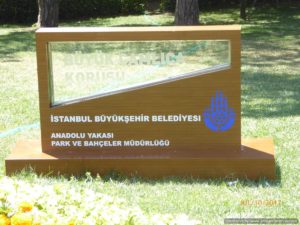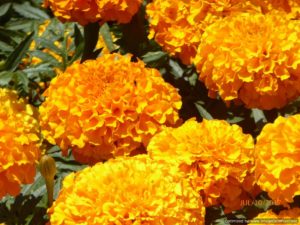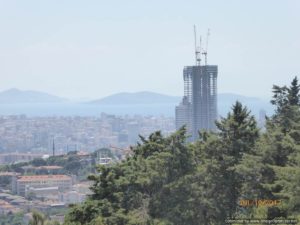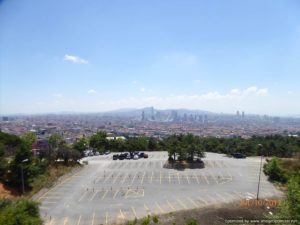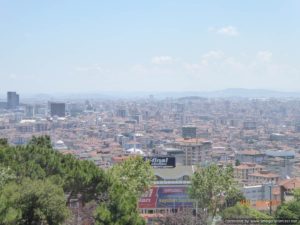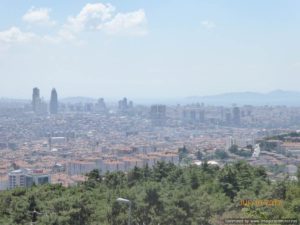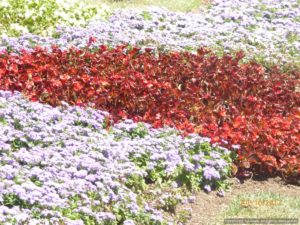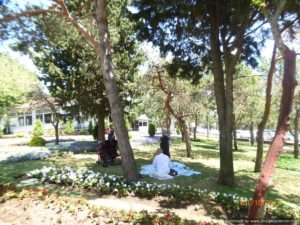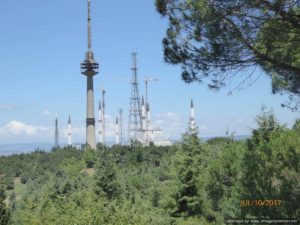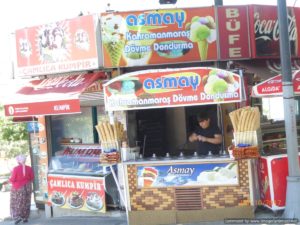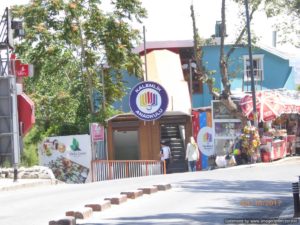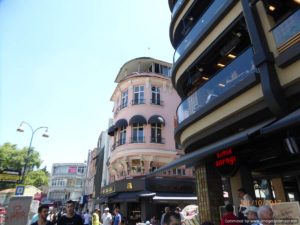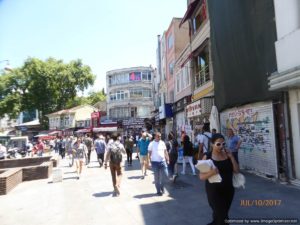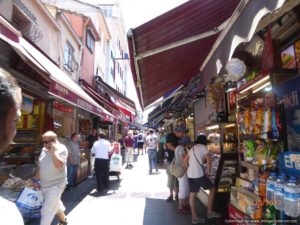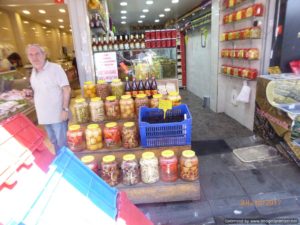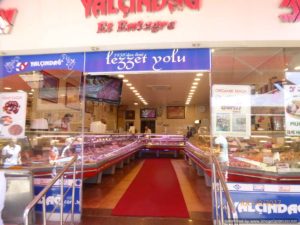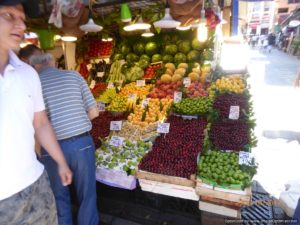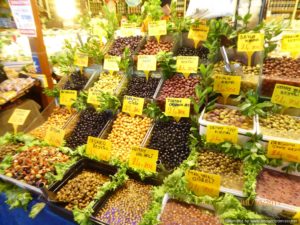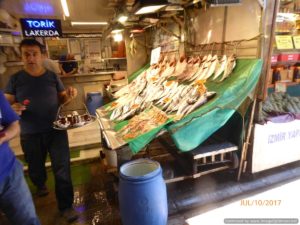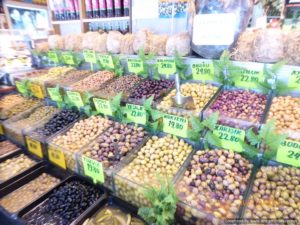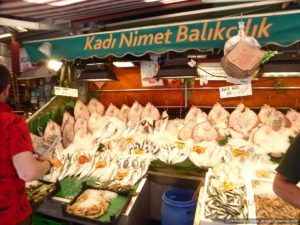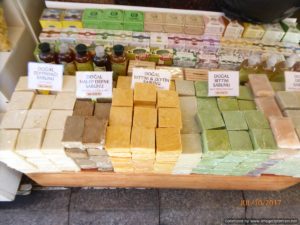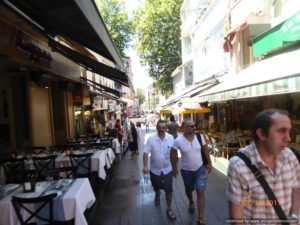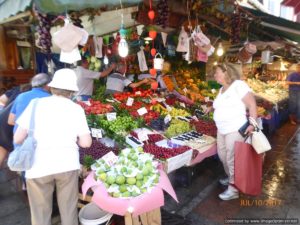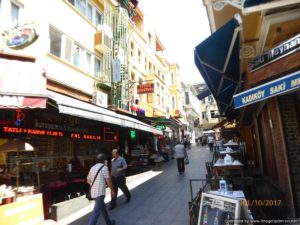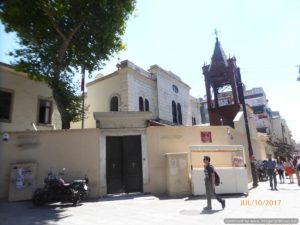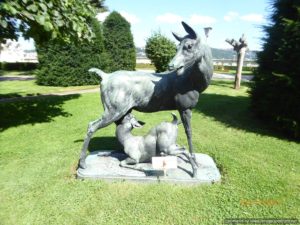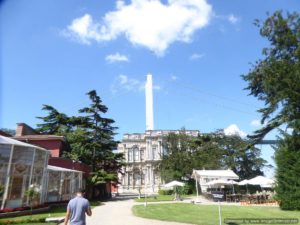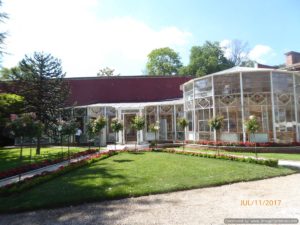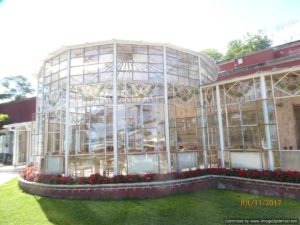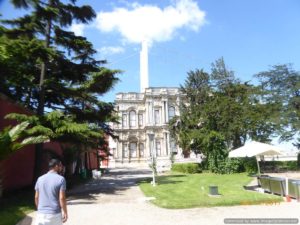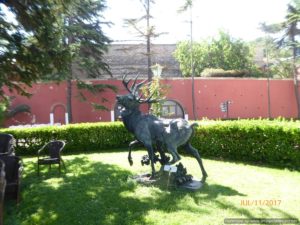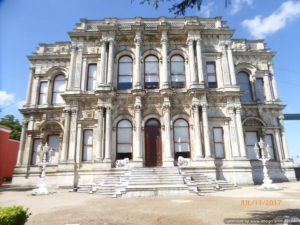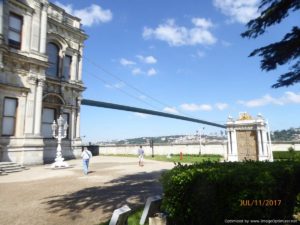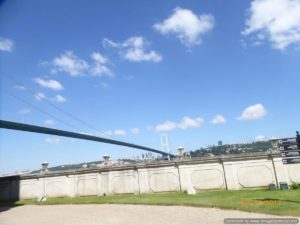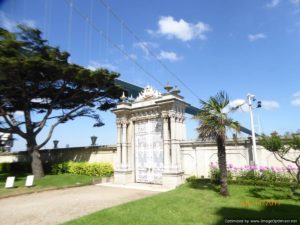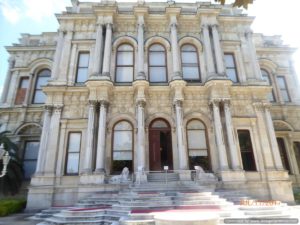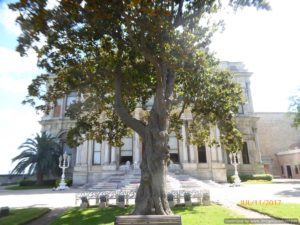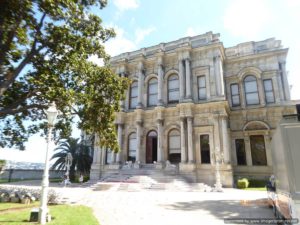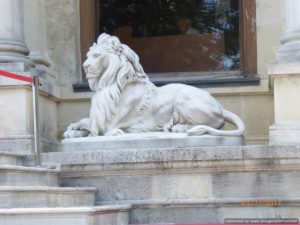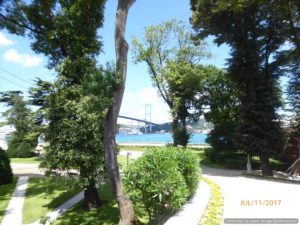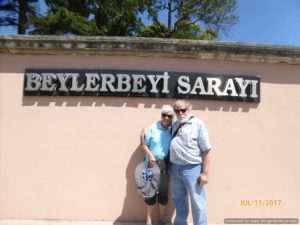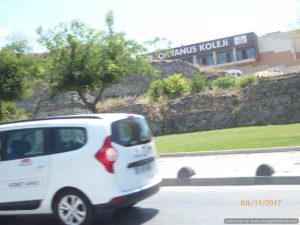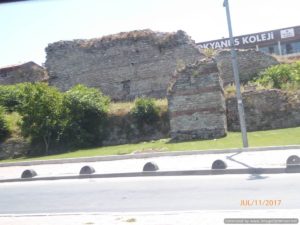 Old city walls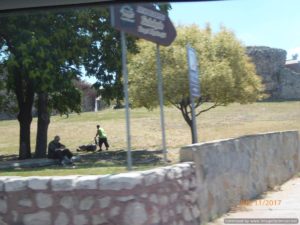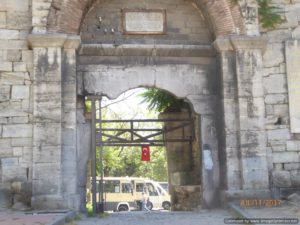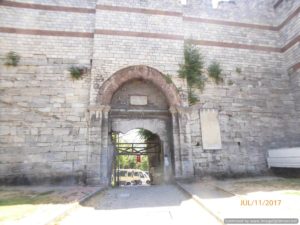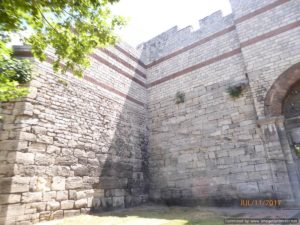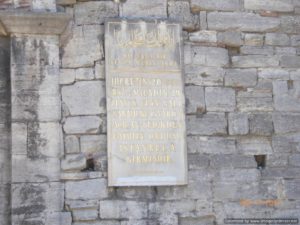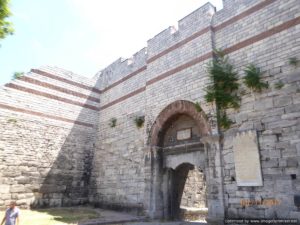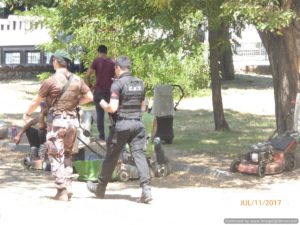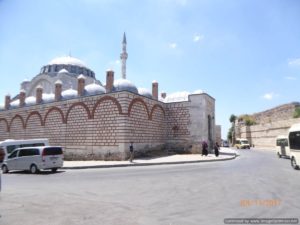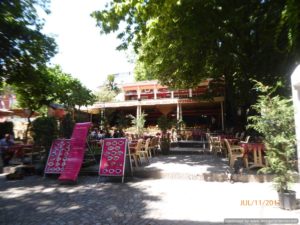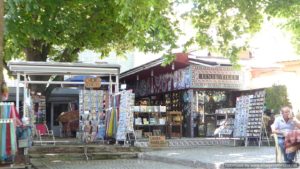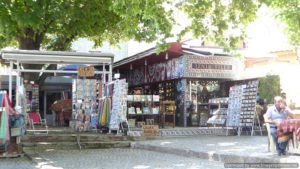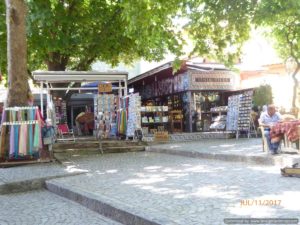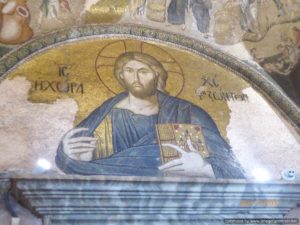 Chora Museum- church from the 14th century.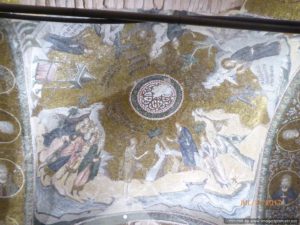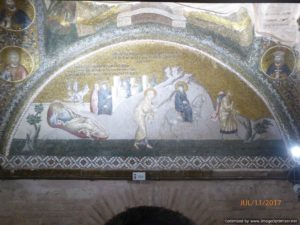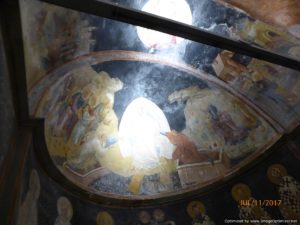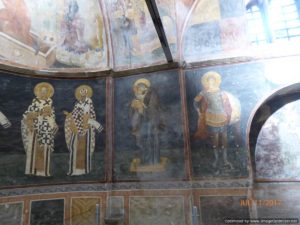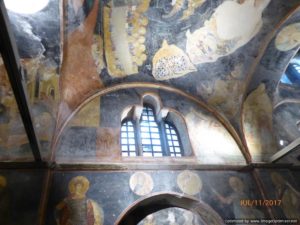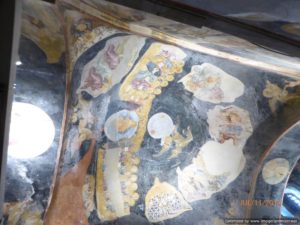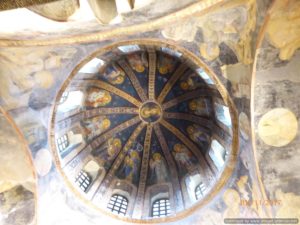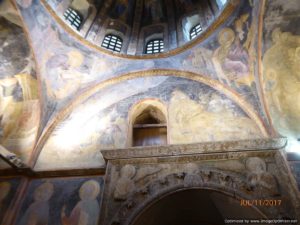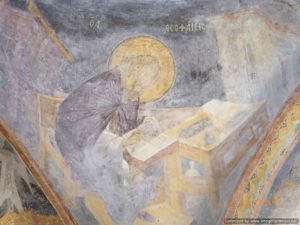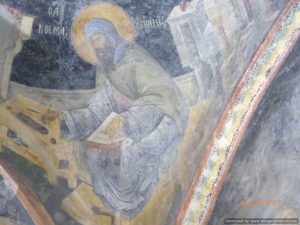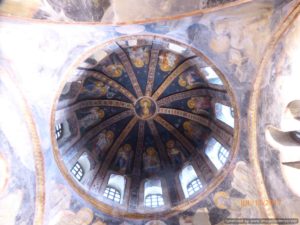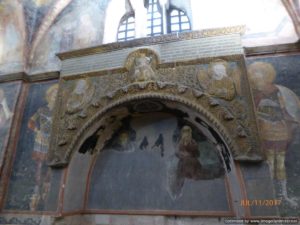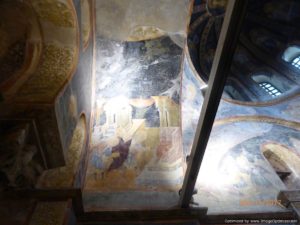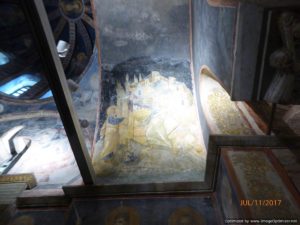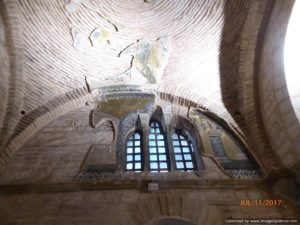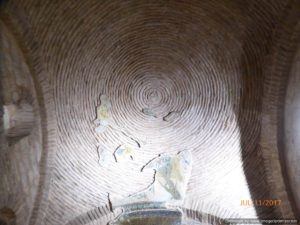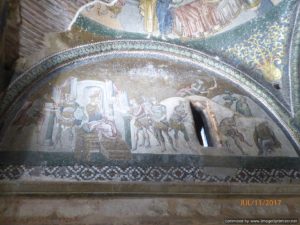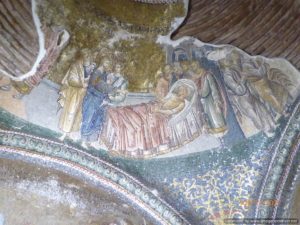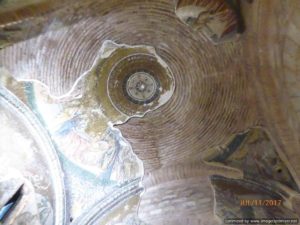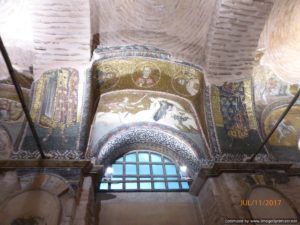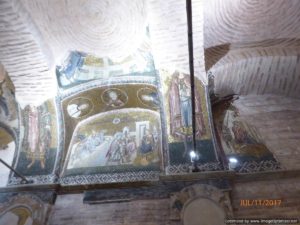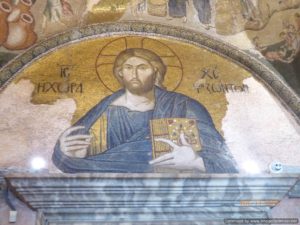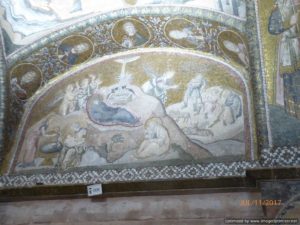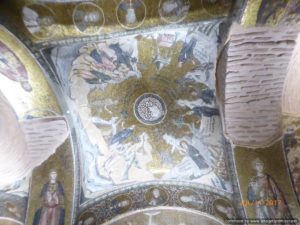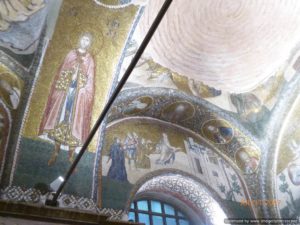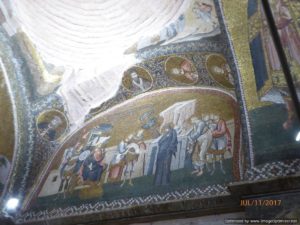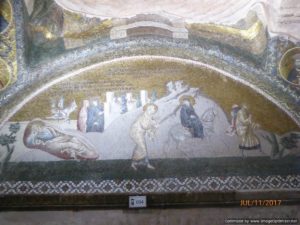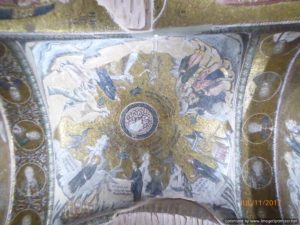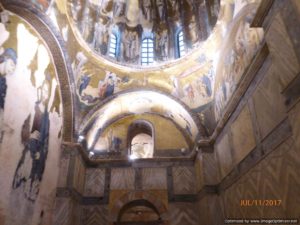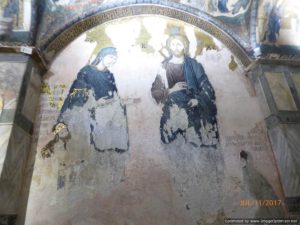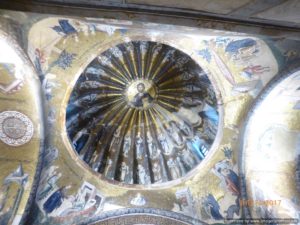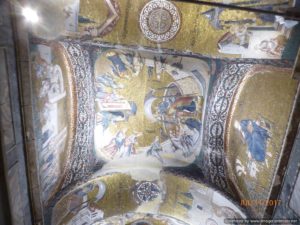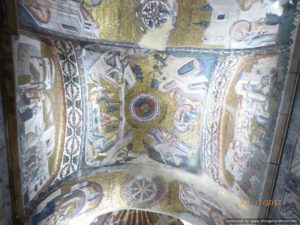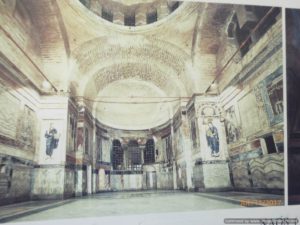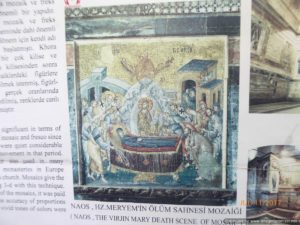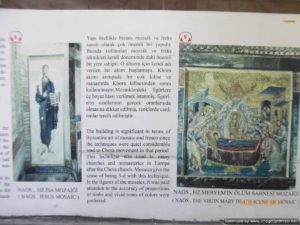 Fener-Balot district – 
Old Greek and Jewish district, largely inhabited by Syrian refugees now.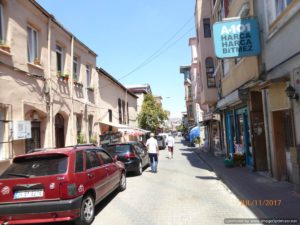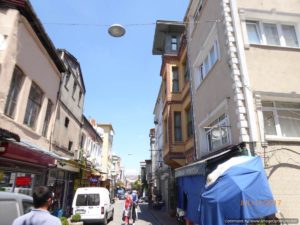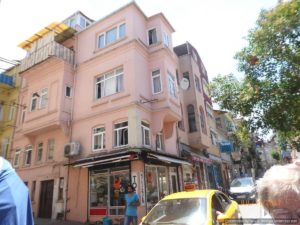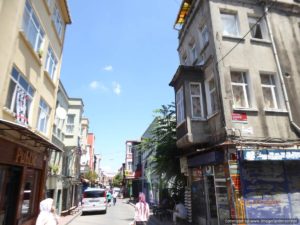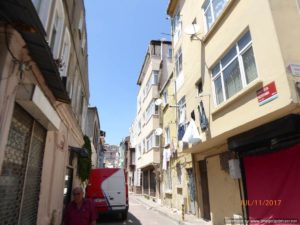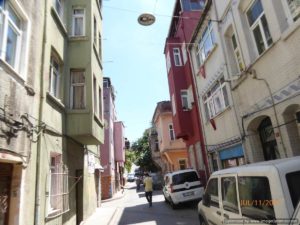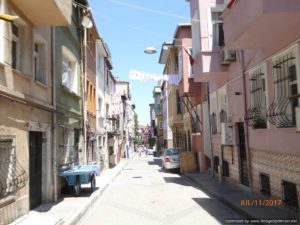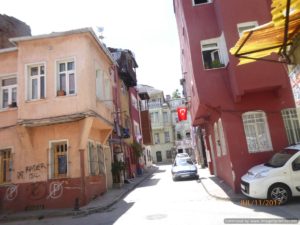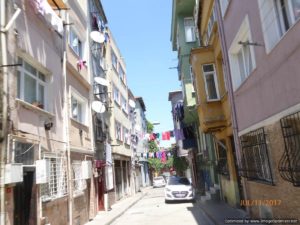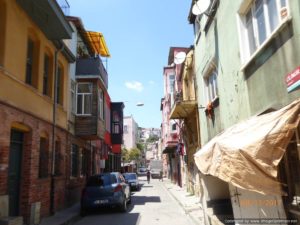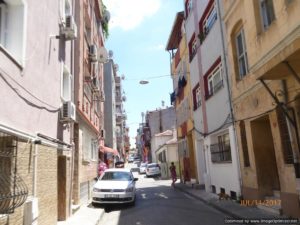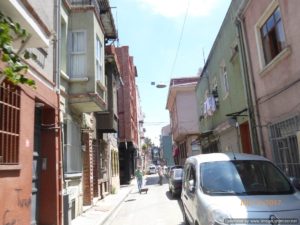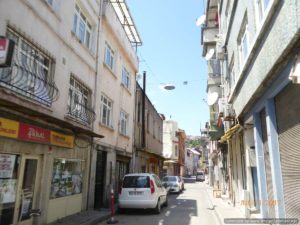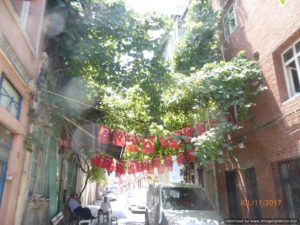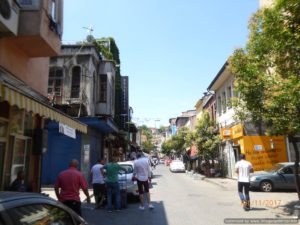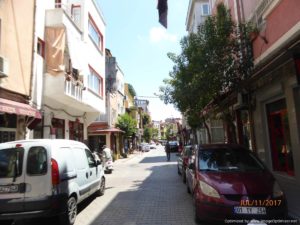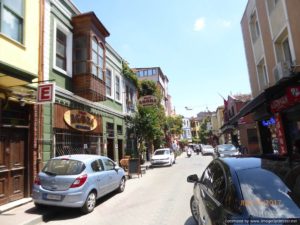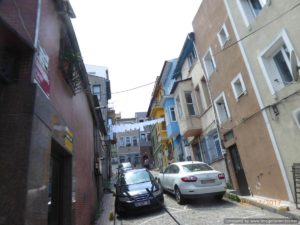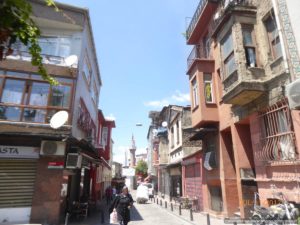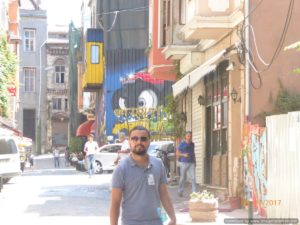 Yunus, our very patient guide this week.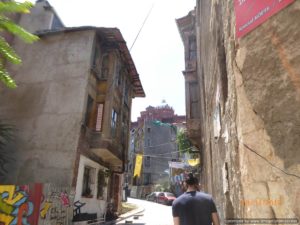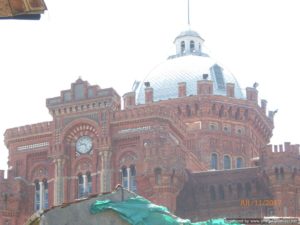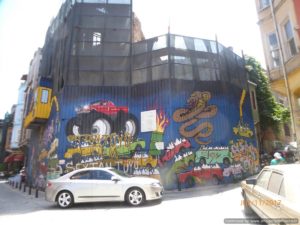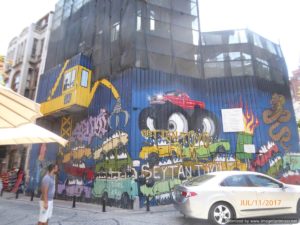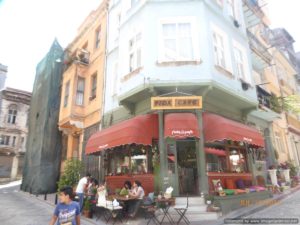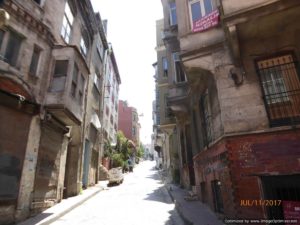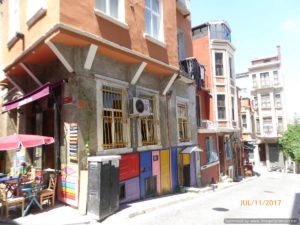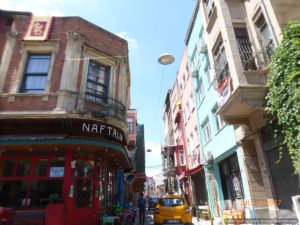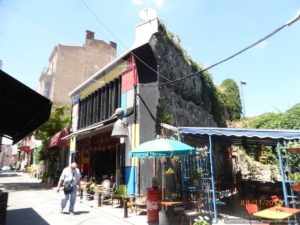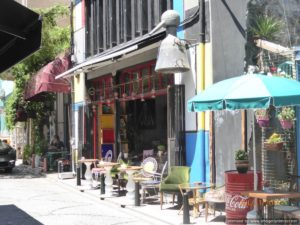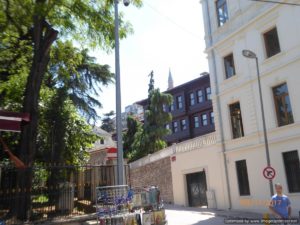 July 12, 2017 – Day 6 
Today-  The Grand Bazaar and the spice market.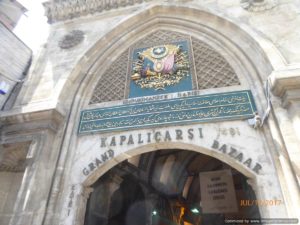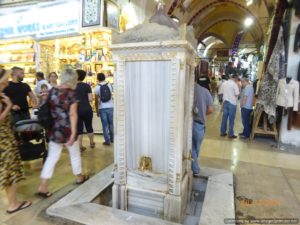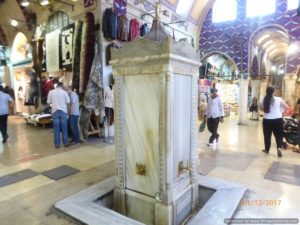 There are fountains like this throughout the city with clean water for people to drink and splash on their face and hands to cool off. There are faucets on each side.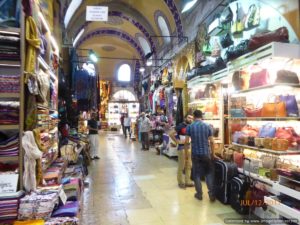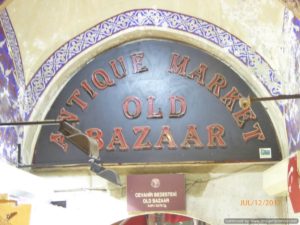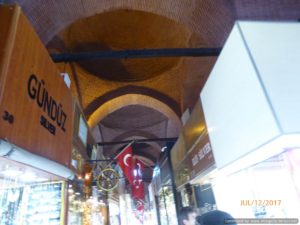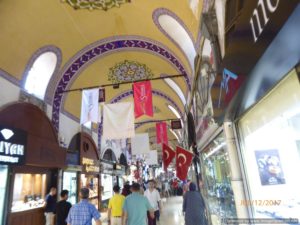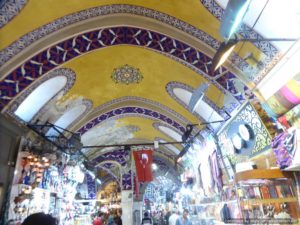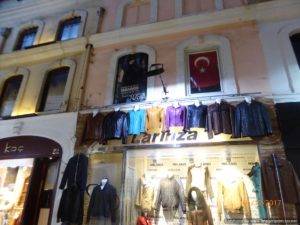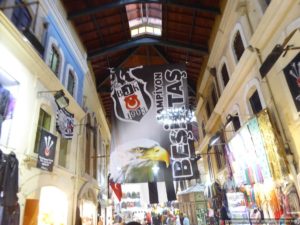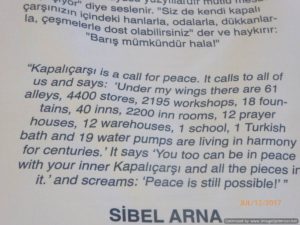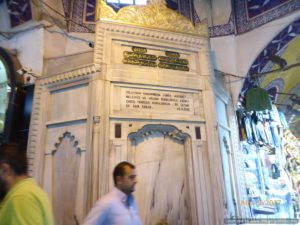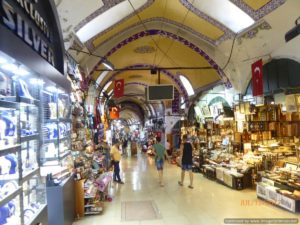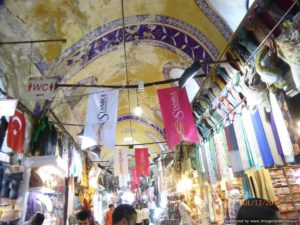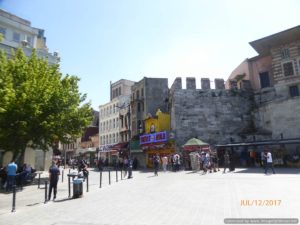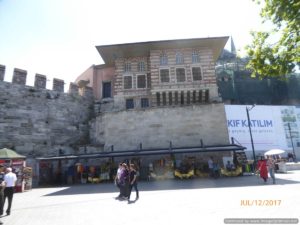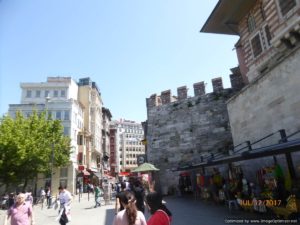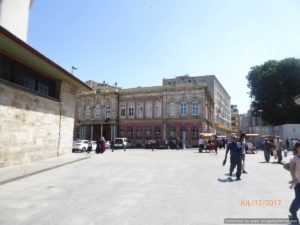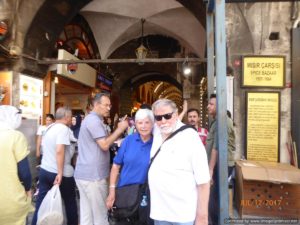 Jim got a hair cut yesterday.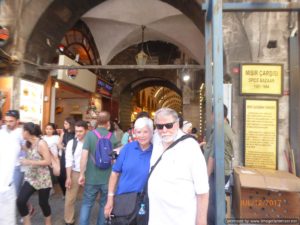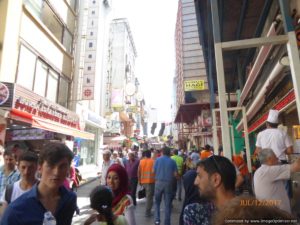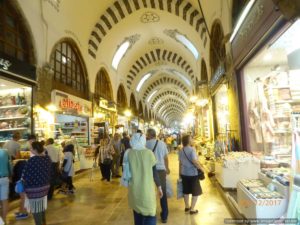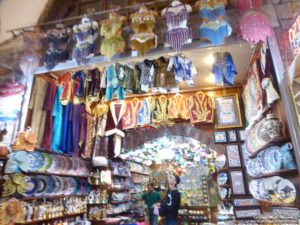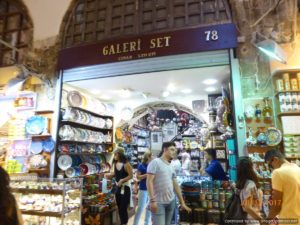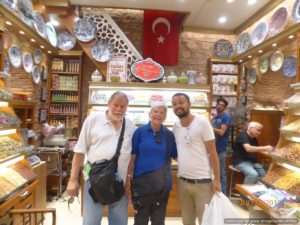 Jim, our guide  Yunus and I at the Spice Market. Yunus and his wife expect their first child this week.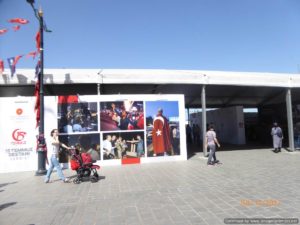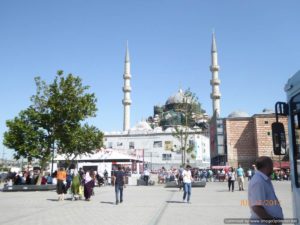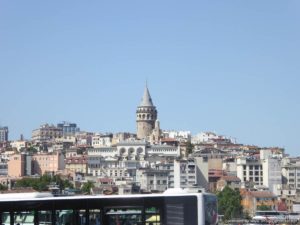 July 14, 2017
This morning driver Murat came to take us to the airport and 1st thing I asked was to see a picture of the baby. Murat and has wife had a baby boy yesterday.
Istanbul, I am so glad we came here. 
For some historical information…..
Encyclopedia Britannica Istanbul